QHHT Hypnotherapist, Energy Healer, SpiritualCoach
Staff member
Administrator
Creator of transients.info & The Roundtable
Jul 19, 2016
7,389
15,519
[
Update
: Feb 20, 2022: Note that the camp has become quite established now. I'm going to probably stop the daily updates but if I see anything interesting I'll post it. They are now calling themselves ProFest and have a website here:
https://profestnz.com/
]
Convoys from around the country have headed towards Wellington, New Zealand. Over the past three days, thousands have gathered outside the Beehive and Parliament House tp peacefully protest. Many have camped out on the lawn.
The protesters were dancing and singing at different times. There's been no violence from them.
This morning police moved in to evict everyone. MSM report 40, but there's hundreds. I've been watching three live feeds and following information shared on social media.
I'd say there's been up to a hundred arrests so far as the police push into the crowd and grab random people quite violently. Some police have been seen punching protesters.
Based on the reaction of the police, the movement is likely going to get larger as more and more people hear about what's going on here.
The freedom protest intentions:
• stop all mandates and end the COVID-19 restrictions,
• reverse related legislations and cease proposed legislations,
• Bill of Rights Act 1688 to be upheld and added to constitution,
• medical and professionals to follow the Principals in the NZMA Code of Ethics
• and all media to have freedom without censorship.
Below is the information I've collected on the situation so far.
I stood there for 40 minutes filming a convoy coming through my town Richmond, in the South Island of New Zealand, which you can see below.
There's 5 live feeds that I know of covering the protest..
Camp Freedom Live Streaming List
For the Facebook live, the URL changes when the feed drops, so find the latest on their profiles/video pages.
Chantelle Baker
here
.
Chantelle is doing amazing and has been contacted by Joe Rogan for her footage.
Clay Drummond:
https://www.facebook.com/clay.drummond/videos
Clay, a friend of Laron, has been there since day one. He was in the front lines when the police violently attacked and arrested people. He's got a lot of footage on his video section.
Clay has been banned from Facebook for a month. You can find his live streams on YouTube
here
.
Counterspin:
https://counterspinmedia.com/live-stream/
Counterspin run their feed similar to how MSM (legacy media) would, but are freedom based and have some great interviews and breaking news events.
The Daily Examiner:
https://www.facebook.com/dailyexaminernz/videos
(only there for the 12th of Feb.)
Stuffed:
https://www.stuff.co.nz/national/health/coronavirus/300529966/live-protesters-clash-with-police-at-parliament-occupation-site
NZ Herald:
https://www.nzherald.co.nz/nz/covid-19-omicron-outbreak-anti-mandate-protest-at-parliament-enters-23rd-day-police-gather-in-big-numbers/WG3MSZQYSXOPPIJWVJ5CO3MJQY/
Note that for the MSM sources, such as Stuff, NZ Herald and NewsHub, there's a lot of lies being told as they continue to follow a narrative put down by the elites/cabal/government. They are not worth following unless you want to analyse fake reporting.
A serviceman saluted for 45 mins as the entire freedom convoy passed him by in rural Whanganui, New Zealand.
Here's an update from last night.
A video from earlier in the day:
Police locked the gates to shut people in:
Casey Hodgkinson's mother stands in the front lines confronting the police. She explains how dangerous the jabs are. Her daughter Casey suffered a serious adverse reaction which has been discussed a lot and used as an example of how dangerous they are.
Counterspin reported police crying because of their colleagues violent behavior. There's video footage of it somewhere I saw someone say on social media.
A a message from a New Zealander mother.
Screen capture from Stuff's feed as of 1:14PM Feb 10.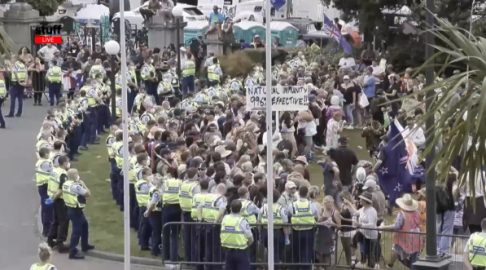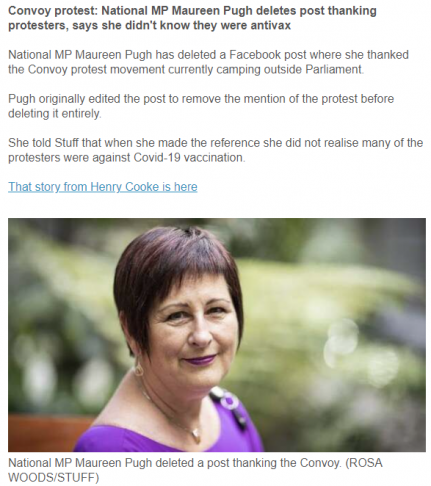 The situation below as of 1:45PM Feb 10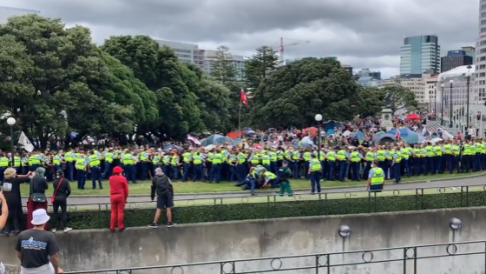 "Wellington City Council senior parking wardens are beginning to ticket illegally parked vehicles, with police support." ~Stuff
Last edited: