Metaphysical & Spiritual Teacher
​
The "battle" to cleanse the planet and expel all the members of the races that have previously been in control of the management system of humanity at its two upper levels is still underway. Some of these races have increased the number of their members, due to their reproductive capacities, and the assistance they give each other to be able to develop at extremely fast levels when they need to increase their presence in the places they manage. Thus, because many of them reproduce by eggs and hatchlings, just as some of our animal or insect species, to which they are related to, it continues the work of locating them and trying to enter their bases and logistic centers by those who assist the planet and its hierarchies in this process of "planetary cleansing" to extract them as soon as possible.
Meanwhile, taking into account that despite everything we are somewhat calmer to proceed with our healing and deprogramming processes, because a large part of all the remaining Asimoss, Amoss and company are concerned about defending themselves and not being located, most of humanity has a break, and a little less pressure, to continue with other issues that will help us move forward on this way to the new reality 15.6Hz.
A new acceleration of the process
As we had put in the last checklist, the process of "solidification" of the physical plane 15.6Hz entered the note SOL #, and, in a few weeks, it will reach the note LA, accelerating the process of manifestation of the last missing plane to build, and reducing in linear time to about 7 and a half years estimated duration. This means that, the more energy and "power" Kumar puts into the creation of this last phase of the planetary structure that he is building, the faster our linear computation of time is realized, decreasing the missing time in order to have complete the "New Earth 15.6Hz," that as you know we have been calling it.
We already explained in this other article how the process of "physical change" of reality will take place, once we are able to perceive the new structure superimposed on the current one, and with the total tranquility that there will be no possibility of confusion, hallucination sensation or distortion in our capacity to differentiate the "base" reality in which we are and the reality "superimposed" to which we want to go. As a complement to the initial explanation of the topic we have given, let's delve into the mechanics of this physical "transfer" so that we can understand it a little better, without entering into fantasies or imaginations about something that, as we have said several times, is so real and mechanical as it is to walk from one point to another in the reality in which we are.
As we said, a new physical reality is superimposed on the current one. Only those who have all their subtle bodies including the physical at level 21 of the timeline 42 and rising above its frequency will begin to perceive it. Once they begin to perceive the new physical structure 15.6Hz their Higher Selves will be responsible for helping them cross the gateways and pass-through "doors" inside the residences or places where they are at that moment.
Does this mean that my Higher Self is going to build "something" in my house that allows me to move from one reality to another? Something like that. You do not have to build much, because the new reality 15.6Hz brings with it these same passage bridges already installed to make them "coupled" with the current reality.
Imagine a ship that has to dock in a port, and carries with it walkways so that passengers can get on and off it. Imagine that the walkways also make restraints when the boat is anchored in the mooring, so that, from this same mooring, you do not have to do anything but climb that walkway that already came with the boat, without anyone having to build one to be able to access it.
This, transcending the analogy to the physical plane structure 15.6Hz means that it already comes with "gateways" connected to the attachment points that the 15.6Hz plane has on the physical plane 7.8Hz, the same way that the etheric plane 15.6 Hz is tied to the etheric plane 7.8 Hz by another identical series of scaffolds and energetic "beams" that act as a bridge between realities. Thus, all "etheric beings" now, using those bridges, can change the new Earth from the current etheric plane to the etheric plane 15.6 Hz, and the same will happen for the physical plane.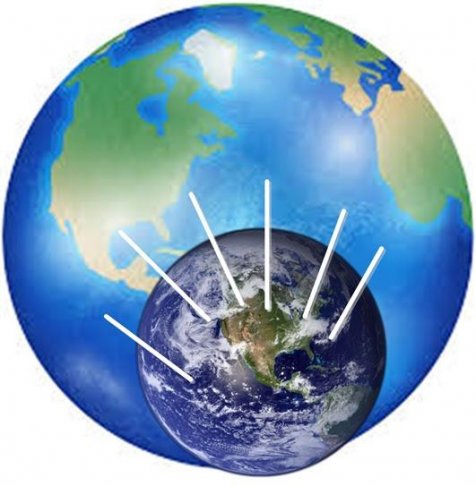 The connection of the future physical plane 15.6Hz to the 7.8Hz plane is produced through anchors and "gateways" that the upper structure brings with it to "couple" to the current structure
​
But, these restraints, will they be in all parts of the planet? Practically every few meters there is one, which means that at the moment in which you are able to perceive the material plane 15.6Hz it will be very difficult that you won't be able to see some structure of subjection and passage for you. This way, you do not have to be at an specific place on Earth at any particular time, for wherever you are when you are ready to move to the new reality, you will have some "walkway" nearby, and, as we have said, most likely it may be inside your own home.
Anyway, once we get to perceive these gateways, we will not be ready to cross them, as we will remain anchored and tuned to the physical reality 7.8Hz, so when the time comes, we will explain how to "detune" with it and "tune in" with the new one, something that will involve a manipulation of the anchor point that we will explain later.
The article above has been translated from Spanish to English by Carl. Minor editorial changes made by Laron. David has given transients.info direct permission to share his articles in this manner.

This work is licensed under a Attribution-NonCommercial-NoDerivs 3.0 Unported (
CC BY-NC-ND 3.0
). You're allowed to share this article for non-commercial purposes, but you must not edit or modify the contents. You must include all links and images, as well as provide appropriate credit — which includes a link leading directly back to this article at the top of your re-post. You must also include this licence information.
About the Author
David Topi is an engineer, multifaceted writer, trainer and therapist. One of his main areas of focus is educating and helping people through spiritual and personal processes. He is an energy healer and uses the "Akashic" healing technique. He is trained in metaphysics, alternative methods, inherent spiritual abilities and in personal deployment systems that allow humans to express their maximum potential and find answers for their questions. Back in 2013 he created EMEDT, Metaphysics and Transpersonal Deployment School, to provide a framework, organised and structured to the training he teaches. The website for David Topi's Spanish based Metaphysics and Transpersonal Deployment School can be found here,
http://emedt.org
. David Topi's home page can be found here,
http://www.davidtopi.com
(Spanish).