Sweetheart of the Rodeo
Staff member
Global Moderator
Administrator
Board Moderator
Jul 20, 2016
5,877
18,647
Read quickly - the landscape is bound to change again in a few days.
There is probably a handful of people with the big picture, and they've not contacted me. I'm writing with observations and possibilities because we need to keep our heads up. The train to crazy-town might be making many stops, and we don't want to be there. Things are quiet and calm in my little part of the world, but I can sense great unrest when I go out into the city. Like many people I know, we tend to stay home at night. Still, in the end, I go with my dreams and visions that show an awkward, rougher time, but one in which people work together and get along OK.
My observations
F**k Biden being chanted at football games - even in my marxist city - and not a mask in sight. Knowing the leadership in my city, this is a big deal - perhaps even a FU to our worthless mayor.
Underlying stress about prep items - following Joe Rogan's lead, some are getting meds and docs lined up just in case the bug makes a direct or indirect appearance. Frontline Doctors are overwhelmed, and lists being generated of "friendly" docs and pharmacies. I believe being prudent is self-care, so working out the details and sharing with interested friends and family.
Surface stress about vax mandate for businesses. Will the governors be able to circumvent this assault on the Constitution?

What will OSHA do? (Occupational Safety and Health Administration - US government) It is a small agency with limited resources. Four days ago, it issued a revised guidance about work places and the virus, citing CDC information. Although allowing time off and incentives for getting the vaccines, no other measures were mentioned. Everyone is in the wait-and-see mode, which carries stress.

What's going to happen to the Resident? Will he be phased out? (He's been coughing a lot lately.) Will Harris step in? Some say her disappearance from public life is because she's being prepped to be the Prez. (I figure point one is how not to cackle.) Some say the military will step in after the Resident bows out but before the cackler can step in. Who knows - seriously.
A young man that I just met feels comfortable bringing up these issues with me. https://www.transients.info/roundtable/threads/lindometer-readings.8406/page-11#post-64648
Nicki Minaj lights up twitter and not in a good way for them. I'm not a fan but plenty of younger folks are.
The AUUKUS agreement between Australia, United Kingdom, and US is a placeholder for false-flag or war activities, if needed. Freezing out France was an interesting move - the US needs money and the UK has been having issues with France over refugees and fishing rights. The loss in funds will have a big effect on France, which already is in trouble with the on-going marches.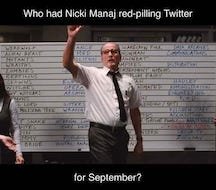 Notes from a friend
Lindell has been active, Flynn speaks out from time to time - but what is Sidney Powell up to? That answer will be interesting.
Government buildings in DC appear to be empty, utility work and flooding of underground tunnels seen all around the capitol complex, DC is not a state and not really part of the US. Then you have Mar A Lago that was built in the 1920s and was to be donated by Majorie Post (owner) to the US government as a winter White House. The plan fell fell through and it was purchased by Trump in 1985.
What's up with the Gates and Bezos very public divorces? Do they have anything to do with 2018 EO that allows for confiscation of funds from those found guilty of misdeeds? Were deals made that allow the families to have a life, while the execs pay the price?
Summing up the election steal and virus scam - it is basically a full on World War 3 Marshall Plan type military battlefield, on all fronts. We are not seeing it, and thankful for that, because this is better than an all out bloody civil war. That is what Trump wanted to avoid, which is why he let the election run as is.
When Fauci focuses attention on the next strain, Biden issues the vax mandate, and some elected officials try to stall audits, it is because there is nothing between them and the truth. So, the fallback is to the tried and true method of stall, confuse, and misdirect - hoping the public gets distracted by something else.
Another measure of the intensity scale is in the calendar - one year to show wrongdoing in the election - that comes up in November 2021. There is a lot of info to assemble. Wonder who is working on that?
A Bit of Woo
October 1 is the end of the fiscal year for US. It does not take a rocket accountant to know the government is just printing money. With all that's gone out and fewer people working and paying in, let's face it - the country is broke.
The only real power the DS has is through deception, which is provided courtesy of the MSN.
Will weapons left in Afghanistan end up in the US courtesy of China?
Year of the great die-off from the vaccine is 2022.
Aside - Many healers are working with vax injured people now. There is plenty of info on our site. https://www.transients.info/roundtable/threads/healing-from-covid-vaccines-covid-healing-info.8824/
By Greg Hunter's USAWatchdog.com Clif High is an Internet data mining expert who has many well-documented correct forecasts. High uses something he calls "Predictive Linguistics" and computer programs to sort through billions of bits of information on the Internet to predict future trends and...
usawatchdog.com
Articles show media is in catch-up mode to the events.
Media promoting false flag on the 18th in DC ***update - more press, police, and undercover cops than regular people (in very sparse numbers)
Advises not to attend protests in Australia ("heavy handed shit") ***update 270 arrested and police outnumbered in many cases
One language clue Clif has is on or within the 3rd week of October, a media casualty occurs, maybe a company, not individual. This is a temporal marker — media problems seem to crumble after this point as they try and keep themselves out of jail. The tide has turned here. ***update could be Nicki Minaj & twitter
The secrets revealed period started in August and will go on for years. This is about knowledge and wisdom — it won't be hidden anymore.
Serious men need to watch out for their families and extended families by putting out words of caution on "activities".
"Serious men" need to stand up and speak up at the appropriate time. When the emotions of the normies break through, that's the time to guide them to a calm state and to consider the info.
Political party individuals coming out, who are not corrupt, are serious men and will tell us we are entering a time in which everything that the normies thought they understood and knew, will be upended.
A cult that is 6k years old, maybe older, will be exposed. Maybe 13k years they have been around. They are an Aberration. This will be exposed to the normies and they will find it very hard to accept. This death cult will be revealed and that is who is attacking us. This exposure is the revealing, the apocalypse. The apocalypse is secrets revealed. A lot of minds will be destroyed from these secrets. It will destroy a lot of people.
There are lots of awake people that will be ready to fill the roles of all the criminals that are exposed, meaning there will be a whole new approach to things.
The USA, UK and Australia thing that just happened, was really to coordinate the deep state response to what's about to come out. This will probably include threats of nuclear war with/by China. They will be lashing out in an attempt to get out of the situation the cabal/deep state have created.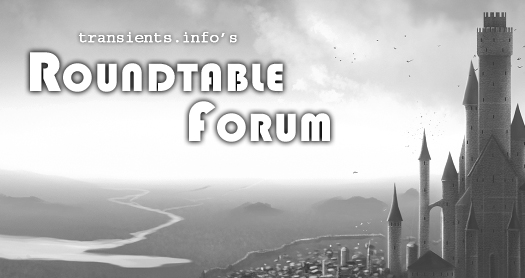 Here's Clif High's latest video (22 minutse) which I've written some notes about below. Articles show media is in catch-up mode to the events. Media promoting false flag on the 18th in DC Media following organic trends developing in the social order At the same time they are promoting the event...

www.transients.info