QHHT Hypnotherapist, Energy Healer, SpiritualCoach
Staff member
Administrator
Creator of transients.info & The Roundtable
Jul 19, 2016
7,323
15,398
Back in December last year I put together this article below for transients.info which you can find here, along with a bunch of responses/comments. I thought it would be a great one to re-post on the Roundtable and to pin to the top of the board. Myself and both Global Moderators Bill and Maryann have answered the question within this article.

* * *

On the transients.info Facebook Group, not too long ago we had a thread talking about money versus spirituality. The comments were focused on this following question: 'Do we need money to be spiritual?'
While there were over 60 comments in the end, I have narrowed down three comments which I think best provide insight and guidance into this subject. One is by Bill, one by Maryann — who I sometimes post Pleiadian based messages from on the site here — and the other is from me.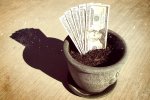 ​
Bill

Is having money and some comfort a bad thing? Instead should it be given out to others who are more in need? But are people with less economic benefit by definition more deserving of love and support than those who may find themselves economically better off? What would the basis be for favouring one over the other?
In the end I've settled on it's all about your intentions. If you are living life positively and with the intent and actions to serve others — that is what matters.
If you are fortunate enough to be better off economically, and you use the resources you have towards serving others in helping them find the light, then having some comfort and security in your life for yourself and your family is perfectly ok and there is no cause for guilt about it.
The degree to which you share with others vs retain for yourself and family is something that each soul has to decide and balance. But if you are just hoarding for self-enrichment with no meaningful thought or actions towards serving others (not lip service) then that is not the path I would want to see be followed as it is service to self, not service to others.
Not all rich people, or companies, are evil. Not all poor people are spiritual nor deserving of transfer of unearned abundance to them. Yet all are deserving of unconditional love as they follow their path. At least that's what I think... today.
Laron

A proper answer to this is a very complex. We are each born into situations we are now playing out, with planning. We know beforehand the possibilities of where we are going to end up, as per our 'life / soul contract'. Most souls on the Earth have many lives and each soul goes through many different experiences, to learn specific lessons for the growth of their over-soul and higherself.
Take for example what Markus Persson
recently tweeted
. He became a billionaire thanks to creating Minecraft and later selling it to Microsoft:
Once we come to understand what our life path is, we will then do what we need to do to survive and fulfil that path. We may already be fulfilling that path without even knowing we were destined to. If we are not on the right path, we will be nudged, pushed and kicked until we fall into it. Some people have psychic faculties which confirm and validate what they are doing and are on the right track, and some just grow spiritually enough to just 'know'.
Money is therefore only relevant to helping one survive in relation to what they were meant to be doing in this life.
People are born into a family and culture, which has its own customs, values and beliefs; those situations may condition them into thinking that life is all about building up assets and becoming rich, which is not a very helpful way to live, as it can distract a person from what's really important in terms of spiritual growth. However that was meant to be, as it was planned, and there is nothing 'wrong' with that situation — there is only something wrong with it if we judge it, and there is no need to judge. Even though there are more efficient ways for a soul to grow, it doesn't matter, as the average soul has many lives to play out all those experiences.
Our spirituality is about learning many lessons, based on going through direct experience. We can't read about a lesson and learn it — we have to live it. We don't have to do and experience everything — which is what I sense right now — but there are key areas where we need direct experience and this takes many lives for those in the Earth school. Some will progress faster than others, some will be slower, so the number of lives will vary.
Our intentions towards the decisions we make in life is what's important. The reasons behind why we do what we do is key to our state of spirituality. This is based upon our growth as spiritual beings and is a natural situation that develops as we progress.
Overcoming ego
is very helpful in terms of our decision making, as if we learn to control it we no longer react or act from ego and specific emotions, but more through guidance and our true selves, via the heart space (also known as the soul star). We will come to naturally have compassion, kindness and love for all and no longer act/react in ways which creates karma. Through ego work and general spiritual development, we can also come to realise that even the smallest life form has a consciousness, whether that is group or individual, and that all life is precious including trees, plants, animals and so on.
Maryann

It doesn't matter if you have money or don't, just like it doesn't matter what you eat or how you dress or where you choose to live. All of this stuff is of the body. You need the body to hold the spirit and do your soul-work in the here and now. If you need money to keep the body alive, use the money, and enjoy the experience of being alive, and share your experience of enjoying life with people who are struggling to do the same.
If all you have to eat is meat, or if your body suffers without it, eat meat. Don't traumatize yourself about any of that, but be grateful for every bite of food, knowing that millions of people have gnawing, empty bellies tonight.
If you dream of living in a comfortable home rather than in a tree house, and that helps you help others more effectively, go for it. Or be happy in your drafty little apartment, and be just as effective, and just as spiritually active, either way. We humans are clever at fooling ourselves that one way is right and another wrong, but this is all ego talking, trying to deaden the pain of living in a world of pain.
I know this is not a popular stance with some, but the fact is, if we are to walk the talk that everything is love, everything is energy, including money, and we are souls with bodies rather than bodies with souls, then the only thing that can matter (no pun intended) is the internal experience of interacting with that love and that energy on a soul level through the body interface with the world.
Being spiritual means helping all of humanity thrive... if we are truly one. Do what enhances your experience of that. Money can help a struggling spiritual person have clean water and food, or spiritual example can help a rich person struggling to discover the depths of his heart. Neither is better than the other and in this world, for now at least, they are more often than not counterbalanced with each other.
Last edited: