QHHT Hypnotherapist, Energy Healer, SpiritualCoach
Staff member
Administrator
Creator of transients.info & The Roundtable
Jul 19, 2016
7,104
15,169
Having a conscious, and therefore direct experience, of being in another state of existence is not only vital for our spiritual development, but can also open many doors to other aspects of consciousness progression. I have achieved this and I have also researched and read the published work of a lot of very experienced out of body explorers.
I've tried three different astral projection programmes in addition to the material I have learnt, those of Mark Pritchard, Robert Bruce & Bob Monroe.
One of the teachers I highly recommend, along with Tom Campbell, Robert Bruce and Bob Monroe, is William Buhlman — this pinned thread is dedicated to his teachings and information, and is also for further discussions that comes up on the forum in connection to him.
William has been teaching workshops for over 20 years on how to project and leave the physical body consciously. He has also published three books,
Adventures in the Afterlife
, (His latest),
Adventures Beyond the Body
and
The Secret of the Soul
(His first). These books are based on the out of body experiences that William has achieved over the past 40 years.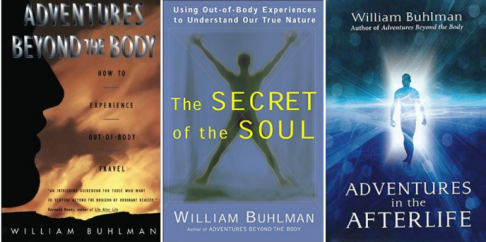 ​
His first book,
Adventures beyond the Body,
chronicles his personal journey of self-discovery through out-of-body travel, and provides the reader with the preparation and techniques that can be used for their own adventure.
He conducted an international out-of-body experience survey that included over 16,000 participants from forty-two countries. The results of this survey were presented in his second book,
The Secret of the Soul
. This book explores the unique opportunities for personal growth and profound spiritual awakenings that are reported during out-of-body experiences.
His latest published book is
Adventures in the Afterlife
.
William was inspired to explore the afterlife based on his confrontation with mortality following a cancer diagnosis in 2011. His lucid dreams and out of body experiences during his treatment and recovery provided mind bending visions that were so illuminating that he felt compelled to journal his experience. Insights provided in this book help with navigating the many thought responsive environments in the afterlife.
William is also a certified hypnotherapist and incorporates hypnosis in his workshops to help people move deeper and therefore increase the chances of projecting out of body.
What I really love about William is that he is very approachable with his attitude and manner. He gets right to the point with his material, while also managing to provide helpful and direct answers to many topics relating to the exploration of consciousness through out of body experiences.
I find that each of these out of body teachers have a niche, or in other words, an area of out of body travel which they have come to focus on through their teachings. With William, I see him expressing the importance of putting the intention in to travel to one's higher self upon death. This is really important to William to get across to people, but of course if a person prefers to stick with their belief systems and remain in the astral, or 5th dimension it is sometimes called, that is totally up to them (i.e. sticking with the soul group, karma and reincarnation).
We have the choice, as we are powerful beings. We have the choice to move beyond the incarnation cycle if we want to, and one method of doing this is focusing on accessing higher self through astral projection / out of body exploration, which will help a great deal with making that connection after death.
In this video below, from a talk William did at the Monroe Institute back in 2014, at about 57 minutes and 23 seconds in, he talks about this exact topic for the remainder of the presentation. (around 30 minutes) This is important to watch if you are interested in the concept of moving beyond the cycle on reincarnation on Earth, but also moving on from other planets and planes within the astral and 5th dimension.
More information will be added to this pinned thread over time.
Last edited: