Healing Facilitator & Consciousness Guide
Staff member
Administrator
Board Moderator
Creator of transients.info & The Roundtable
I'm a bit of a connoisseur of hot sauce. While Sambal is more of a paste, than a sauce, I will still include it in my label of hot sauces!
I try many different types of hot sauce, but I always find myself coming back to Tobasco, which contains tabasco peppers (Capsicum frutescens var. tabasco), salt, and vinegar. (Made on Avery Island in Louisiana, USA.)
Sambal is made from a variety of chili peppers, with secondary ingredients such as fish sauce, shrimp paste, ginger, garlic, shallot, scallion, palm sugar, lime juice, and rice vinegar or other vinegars. I first became familiar with it thanks to a Malaysian friend in Sydney. I then began to frequent Malaysian restaurants now and again.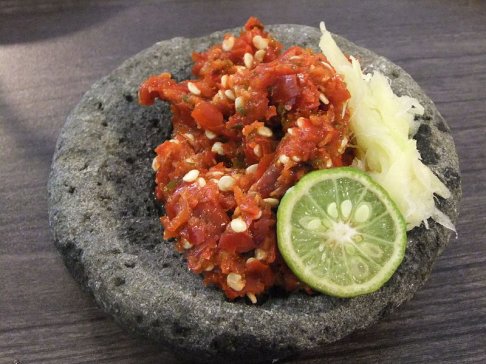 Image Source: Wikipedia
​
Sambal is an Indonesian loan-word of Javanese origin and is native to the cuisines of Indonesia, Malaysia, Sri Lanka, Brunei and Singapore. It has also spread through overseas Indonesian populations to the Netherlands and Suriname.
Vegan Nasi Lemak with sambal, by Pappa Rich
​
Nasi Lemak is the dish I always have at a Malaysian restaurant which comes with sambal. Nasi lemak is a Malay fragrant rice dish cooked in coconut milk and pandan leaf. It's the national dish for Malaysia, but also popular in neighboring areas such as Singapore; Brunei, and Southern Thailand.
​
In New Zealand, a contender for tobasco is Kaitaia Fire Chili Pepper sauce, made with organically grown cayenne chilis. This sauce is pretty good as well. It's New Zealand's number one brand for hot sauce.
Is anyone familiar with sambal? What's your favorite hot sauce?
Last edited: