Collected Consciousness
Staff member
RT Supporter
Board Moderator
Aug 15, 2016
4,238
12,258
I've been having quite average dream space for some months, but then you get a "glimpse" of possibly a nanosecond, and it burns into your consciousness like it's going to take up a place in the history playbooks.
In my dream of last night, I dreamed of conveyances (buses and trains) and ending up going from a crowded bus to the train platform and waiting for the train with others, but then those others crossed to another platform and took a waiting train, and it was only I and one other of my (soul) family who waited on for the yet-to-come train. The reason we didn't go with the others was because we knew that this was the most direct route for the destination, even if it meant waiting a bit longer. There was crowded humanity everywhere in the first part of the dream, but then after people made their choices, it got to be quite empty of people. But folks, this was my second dream. My first dream had the nanosecond.
Without going into the whole dream, suffice to say that I was learning tasks and techniques inside a university (?) and the professor had shoulder-length dark hair and brown eyes (and a nice face, which helped). But then I got interrupted in what I was doing, and when I turned back around to the professor, he was gone, and in his place was a bright orange-haired alien (humanoid type) with a slight shining effulgence, and yellow-turquoise eyes. The eyes more turquoise, but with a yellow glow around them. I think he was dressed in some kind of turquoise space suit as well. It really went well with his carrot top hairdo. This being looked at me kindly, there was no antagonism or anxiety. I have only ever met reptilians in dreams before. I felt like this was the first instance of having met "a relative". All the blogs and posts and channels say you are likely to meet them in your dreams first. As I say, it was only a glimpse, then he was gone.
But when you know you are lucid-dreaming, you know the difference between a dream character and a vision. It was like he stepped into my dream hologram for a second so I could get a good look, and then - poof - he was gone again. It's like something from the ether or extra-dimensional levels where you normally don't go comes and gets your attention, and does it via a dream.
It was interesting that this dream occurred in the early hours of 21st December - the summer solstice in our neck of the woods. I know this because I had previously woken up after midnight. I think I have been unconsciously waiting for this date and was primed for something to happen. But when it does, it is from out of the blue, and you had no expectation of the experience that you were to receive. Time doesn't seem to be a factor here - just the fact that it happened, and the memory was burned in.
This was a relatively tall, humanoid male alien. Here are some pictures for colour reference only.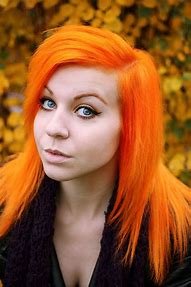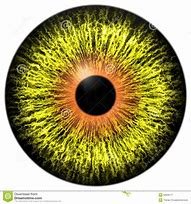 In the eye I saw, the central part was turquoise and took up more of the iris, and the yellow part was less.