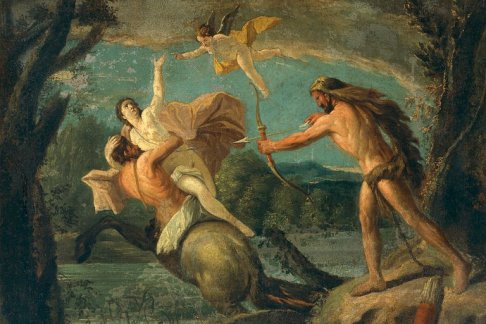 ​
I wrote this article 4 days ago on the 12th Oct NZ time but it still applies.
Venus in Virgo, where she is being rather discerning in whom she spends her time with, and being very concerned with health and well masked hygiene, opposes Nessus in Pisces at 11 degrees.
After the square of Mars and Pluto preceding this we could do with some more harmonious aspects, as Nessus is a known trouble maker when he is around as he wont let go of the past and old grudges so he is hitting home in ways that hurt.
This is about abuse of power, which can come from either our own distant past or further back involving old family patterns.
This aspect forces us to say "enough is enough" and erect strong boundaries.
This is when we must finally make the effort to understand and release deep patterns of helplessness, being taken advantage of, and being oppressed.
A main quote associated with Nessus is "the buck stops here".
It's time to address and change the worst of our patterns where old grudges are still being played out, old jealousies and vindictiveness.
If we have been a victim of any form of abuse Venus urges us to take control and step away.
Taureans, Librans, Virgos and Pisces especially may find themselves in a situation where they actually come up against a person or circumstance that brings up old memories prompting them to release these patterns once and for.
When Nessus is around especially with Virgo involved which is so much about health, there is often a rash that appears on the body or a burning itching of the skin in one form or another.
The Sun at this time is squaring Jupiter, Libra to Capricorn exaggerating just about everything but also bringing optimism, so even with the worst scenario Nessus can conjure up there should be a positive outcome.
Leos, Librans and Sagittarians, Capricorns too are under focus for Jupiter's more outgoing and almost overpowering optimism.
This is a clear message for us all to look on the bright side even amongst all that is happening in the world that is causing despair for many.
On the other hand there is a warning with this aspect with such a severe aspect of Nessus and other strong aspects around, that there may be a lot that is covered up by a guise of good humor and positive demeanors, as this aspect of Sun and Jupiter could mean some are putting on an act to cover something that is darker in content.
This comes to mind as the Sun is also exactly quincunx Neptune, suggesting someone in a scenario is keeping secrets, and not being as open as they could be, so it does appear that not all is as it seems, as with Mars backwards still and Mercury about to be, all that swagger and good humor may be hiding something more sinister.
Pisceans and Librans and many others of us are bound to be feeling extra sensitive today with this strong focus from Sun/Neptune and wondering how to work with all the different areas of our lives that seem to be pulling against each other but at least this aspect will allow for negotiation if necessary, but still , there may be some confusion around especially for Pisces types due to the Nessus aspect.
Tomorrow seems to bring more clarity with Mercury's sextile to Venus aligning our mental processes with our feelings as Mercury slows down to station in 2 days time before going backwards in Scorpio until the 3rd Nov.
During that time Mercury will re-enter Libra.
On the day Mercury turns in two days time, the Sun in Libra exactly opposes Rx Mars which is an aspect of conflict and competition or for some, downright war, and possible accidents too and definitely impatience. (Librans and Arians especially take note to not rush and to slow down when needed).
This is the aspect of fiery debates between political parties as well as total disagreements between world leaders or others in power.
It's about old conflicts coming back to be fronted up to again only with Mars in his weakened state he is a little inhibited in his power.
So we get a scenario of whether to assert oneself and lead the way without worrying about the consequences, or whether to join with others and work in a team.
This is in fact an excellent time for those in power to overthrow a weakened enemy.
With Mercury and Mars both Rx nothing is clear cut and there is much hidden from our eyes.
Mercury Rx in Scorpio is when there will be much research and data gathered for the revealing of what's been hidden for a long time and when Mercury re-enters Libra from the 28th Oct where s/he stays until the 22nd Nov there should be a good chance of more justice and fairness to return to help with anything untoward.
So there will be a gathering of data, and a reassessing of anything hidden or underhanded or dark in this time for a big revealing to come.
Much of this is obviously relating to the Elections in various countries, the most important elections for a very long time.
While Mercury and Mars too are backwards the Sun will square Pluto on the 14th/15th Oct which could be very intense indeed, even explosive, and then Sun will square Saturn on 18th/19th Oct which will both be part of the highly political Libran New Moon energy on the 16th/17.
I am very aware of Mercury opposing Uranus which has already happened once so this is the 2nd such aspect and am aware of the tensions on social media with the censoring. So I will toss another date into that mix as I expect around the 19th/ 20th Oct a shock announcement which may indeed involve social media or other popular news sources which will revolve around the destructive use of power, and in this case it seems to involve the internet – the media, and due to the female Goddess energy around this date I'm hoping for a bit of a healthy cleanup in that direction.
Whether there will be a shut down of one or more of these media sources or not I am not sure but there is bound to be some shake ups.
So the Libran new moon is going to be huge for the world in political arenas, which I believe will lead on to a giant crescendo on 31st Oct/1st Nov when the Sun will oppose Uranus.
The opposition of planets is very powerful and this will be felt days before as that date is also an Apogee full moon in Taurus.
All this 3 days before Mercury goes direct again.
So around the 2nd /3rd Nov depending which country you are in and with the effect of the full moon still in effect there will be an outpouring of new information like none we have heard for a while.
We are about to enter an extremely active period for our planet so it's time to buckle our seatbelts again!