QHHT Hypnotherapist, Energy Healer, SpiritualCoach
Staff member
Administrator
Creator of transients.info & The Roundtable
Jul 19, 2016
6,957
15,064
There seems to be a rumour going around online about Trump using the emergency mobile broadcast system to make an announcement sometime soon.
Sounds like it fits into the same thing we have all been hearing for years, about upcoming arrests (some say they are already happening as I speak). But we have heard this over and over and nothing has happened yet (unless people have been replaced with clones, which sounds completely ridiculous).
Use this thread to track the situation by posting new information. I've included some sources below.
From Simon Parkes:
https://www.simonparkes.org/post/urgent-us-citizens-stand-by-for-ebs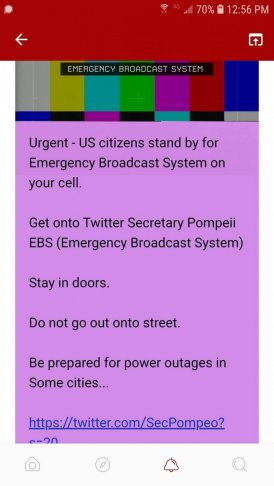 And then I just saw this:
https://parler.com/post/6daa29000f7945d5ad8123fafc31a49f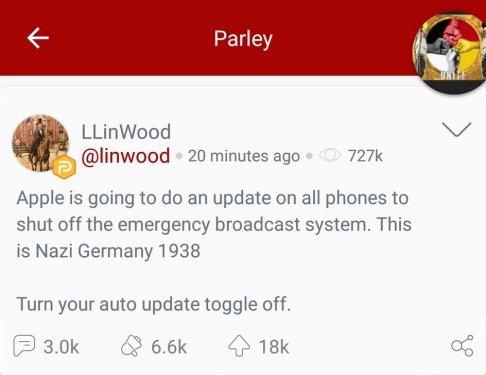 More info here (6 hours old):
"Military takedowns and arrests begin this wknd and will continue forward for the next 13 days/nights. Some international raids have already started. Italy has also been found complicit in our election fraud. Everyone will be getting emergency alerts on their phones, tv's, radios & internet. It will override all other broadcasts and could last for several hours at a time. Do not to be scared of what's coming as it is for the safety of our nation for this to unfold. DO NOT travel to any large cities (especially Philadelphia) for the rest of the month. Military operations will be taking place in many of the major corrupt cities. People will start rioting once this intel breaks thinking Trump is a military dictator. He only has 13 days to put this dog down.​
​
The implementation of the Insurrection Act began after the raid on the Capitol and was marked by Trump's broadcast to the people to disband and return home. This broadcast wound up being blocked, for the most part, by the media. Nevertheless, his address fulfilled the requirements to initiate the Act. Marines and National Guard troops are being moved as needed for the riots that will start after the national release of the intel. The intel will be dropped for everyone to see and hear in loops that will be several hours long. The system was just checked by the FCC a few days ago alerting ALL media that they cannot block the flow of intel under federal regs. Trump will be moved continuously like a chess piece from now until the 20th in order to avoid any retaliation against him and family. Trump had to exhaust ALL other means legally before this operation could commence. He gave everyone a fair chance to come clean and they refused. His press release of a "smooth transition" did not include the word, "concede" as he has no plans to do so. Rather, there will be a smooth transition of power to his new cabinet, staff and Vice President, General Flynn.​
​
The rally in DC was an awesome event! The raids on the Capitol all started with BLM and Antifa members (many from the Philly area) and included Capitol police or those posing as Capitol police. Every day, new info is pouring forth to support this. They opened up the barricades and doors to the Capitol and let them in.​
​
Also, I just got an update on the Capitol breech. It appears there were some Special Ops members dressed as Trump supporters who went in with the crowd of protesters that were able to secure 20+ laptops w/hard drives with data regarding sex trafficking intel from both, Pelosi and Schumer's offices.​
​
Kerry Cassidy (Project Camelot) just posted this:
Last edited: