Realized Sentience
Retired Moderator
Greetings, Everyone! If you are interested, PLEASE GIVE THIS YOUR FULL ATTENTION.
THESE MAY BE THE MOST IMPORTANT WORDS I'VE EVER WRITTEN.
If you're here now, reading this, then I know and trust that ALL is going EXACTLY as it's supposed to be. Those of you who know me know that I've always felt we could make RAPID, POSITIVE change with relative EASE and GRACE. Now I'm SURE OF IT--despite what you may be seeing reflected in your own "outer world" (especially through the narrative promoted by the Deep State's "Lamestream Media". THIS IS AN ALL-OUT SPIRITUAL WAR (NOT JUST A BATTLE). WE ARE IN THE MIDST OF IT. This isn't our traditional idea of "war", as it is mainly being waged through thoughts, words, and energy--but make no mistake. It is a WAR.
That being said, I'm approaching this with the perspective that IT'S ALL GOOD. This is just an illusory (albeit, VERY REALISTIC) "game" we (eternal) souls are playing and experiencing here in the physical. When this life is over, all of us (including those we think of as "dark") will be laughing and giving each other "high fives" over the outstanding way we've assumed our roles here. So THERE IS NOTHING TO FEAR.
As you RT "veterans" know, I've been conspicuously absent for the last few months. I've posted here and there about my activities trying to "wake people up" and "spread some Spiritual calm" on social media, so I won't go into detail there. If you're active on "Twitter" (as censored as it has been) and feel drawn to do so, please follow me there: @StormChaser126 (case sensitive) to stay updated on that. You can also access it via computer here:
https://twitter.com/StormChaser126
Now. I know I've expressed some previous reservations about the "Q" and "QAnon" movement, but I'm now 100% convinced that it's legit--and it's just a part of the "Ease and Grace" timeline being played out. I now see my previous "skepticism" as simply a "Divine Delay"--something to keep me from jumpin in with both feet until the time was right. That time is NOW.
One of the things that won me over completely was the following video. I'm placing two links to two different platforms, just in case the first is taken down or too "swamped" to play. I'm not sure if I've posted links to these before, but even if I did, I think it's important enough to post again.
Here's the other location:
PLEASE WATCH, then continue reading here. I'll wait.
Now. The video explains things pretty well, but if you have any questions, please feel free to ask me. I've literally been neck deep into the process since its very beginning, last October.
What has changed now (just yesterday, in fact) is that the "QAnon" movement has literally gone "mainstream" overnight. MSM is calling it a "conspiracy theory" (go figure) and trying to make it into something VIOLENT, which it's NOT. It's a movement of PEACEFUL PATRIOTS WHO WANT TO CHANGE THE WORLD AND CLEAN UP THE DEEP STATE CORRUPTION that has literally pervaded EVERYTHING in our lives. WE ARE TRYING TO
AVOID VIOLENCE
AND ACCOMPLISH THIS WITH EASE AND GRACE. I have the deepest sense of "knowing" that this is "Universe's" way of moving things along toward "THE EVENT" we've all been expecting. In fact, this will prove to be a very LARGE part of it.
Before I continue, I'd like to present this. Despite social media censorship, I have NO DOUBT it will reach the people it's intended to reach. If you're still reading this, you're probably one of them. I just posted this today:
It's a continuous thread of 28 tweets, so please scroll down to read the entire thing (again, if you feel drawn to do so).
Here's the bottom line--and then I'm done for the moment. Now that "Q" has gone mainstream, we can all expect (AND I FULLY INTEND) that there will be some VERY BIG DISCLOSURES IN THE VERY NEAR FUTURE. It may seem to some as if their world has fallen apart, but it's merely a look at what's really been going on our backs FOR MILLENIA. This isn't a "decades" or even "centuries" issue. The Deep State and the dark have been here, controlling us and OUR SOUL ASPECTS IN THE PHYSICAL for THOUSANDS OF YEARS. It is now coming to an end. THE TRUTH IS COMING OUT SO WE CAN LOOK AT IT, LEARN FROM IT, AND CHOOSE TO CREATE DIFFERENTLY. WE CAN'T FIX WHAT WE CAN'T SEE, so we're being given an opportunity to SEE IT. If the negativity bothers you, that's just fine--you probably DON'T need to see it. Just focus on the POSITIVE and FOCUS ON CREATING WHAT YOU WISH TO CREATE! You can also help by "SPREADING CALM" and HELPING OTHERS HEAL. That's exactly why "Q" and the "Q Movement" was created. Don't believe what you see or read in the lamestream media. SHOW COMPASSION AND LOVE to your friends, family, coworkers, and neighbors. Let them know that the Q Movement IS A GOOD THING.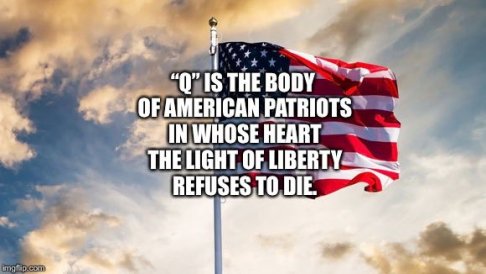 The "chaos" we're seeing is just the "wake up call" for those who have been under the Deep State spell for far too long. Those who are still "asleep" will need a cold bucket of water (upcoming disclosure) to wake them up. We, here, are already awake. We KNOW what's going on and WE'RE HERE TO HELP. I don't know about you, but I'm now CERTAIN that's MY MISSION in this life. And I'm fully intending to be here before, during, AND AFTER, to fully enjoy the NEW EARTH we're creating RIGHT HERE AND NOW.
"Q" has often said that because we're awake, we have front row seats, so...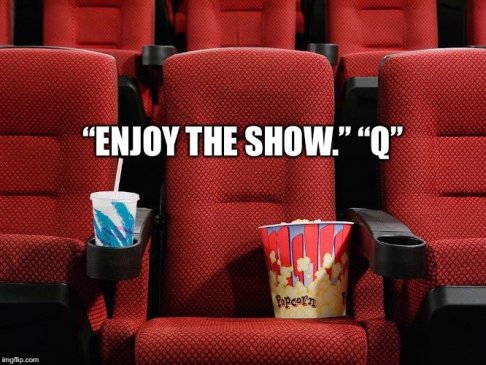 I also want to leave you all with one other VERY IMPORTANT IDEA. It's simple. It's this: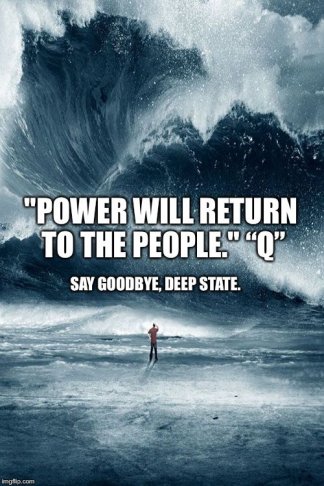 The "Deep State" reign IS OVER. We're seeing it played out NOW.
SHINE YOUR LIGHT!
LOVE YOURSELVES AND YOUR NEIGHBOR!
SPREAD CALM AND COMPASSION WITH THOSE WHO NEED IT!
BE WHO YOU CAME HERE TO BE!
THE TIME IS NOW!