Collected Consciousness
Staff member
Global Moderator
Board Moderator
I am standing in a bright, wide area, looking around. A figure flashes into view above, coming toward me from my left. It is coming fast so I check to see if I should do anything, but it is a figure I recognize, a friend, so I wait. I am slammed into, full force, completely taken by surprise and thrown heavily to the ground where a blunt instrument is used to pry my horn out of my body. It is a complete surprise and well planned; an attack by someone I love. I have no time to process it as the leveraged tool somehow manages to pry my horn from my body. Since it is anchored deep within, it takes out my entire chakra system as it rips out, with particular damage to the part from mid head to mid chest. As I lay bleeding, moments from death I realize that my mate had been nearby and was now also being attacked, raped and toyed with. Unable to help I bleed to death grieving for myself, my mate and because nothing remotely like this had ever happened before. We had always had peace.
I am a unicorn and so is she.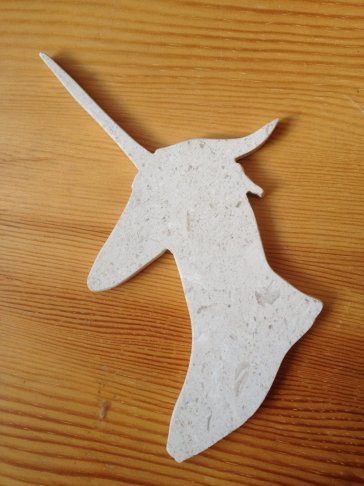 This was a scene that came in a waking dream. I can't recall if it was my first 'unicorn sighting' or if the first was when I visited a local shaman and was enveloped in the warm peach and rose coloured light of Kuan Yin. An eye appeared, with a teardrop in it. It was a tear of commiseration for great grief. The picture expanded and I found myself looking at a unicorn in a field. She offered to help my family and I ride out as we were so weary. I felt this was a great privilege.
The first violent story came in pieces, first just a flash from my left visual field, and then bits and pieces of the story filled in until it seemed a completed section. The story wasn't complete as more pieces fell into place. Another visual accompanied by thoughts let me know that my horn had be thrown into the ocean after those who took it found that, to their disgust and frustration, they could not use it to do anything with. It was hidden there over ages, well camouflaged amongst the coral and fish. It was well guarded, with an octopus being one of its prominent guardians. It seemed that one created a horn for oneself with diligence and honour or not at all.
I wondered if a unicorn horn was an analogy of sorts for people with such a well developed third eye that it seemed to radiate out of their forehead?
If so, it seemed that it was vital that it be balanced by a 'tail' from the second chakra, grounding to earth.
Also, a well developed heart chakra was needed to anchor it all in.
I felt like I had lived life after life trying to resolve this story. A theme emerged. I'd repeatedly manage to become a successful healer and find kindred spirits to form a loving community and then it would be violently shattered by someone who wanted power. Another realization was that, in order for this story to become completed I couldn't do it on my own. The entire blessing had to be involved. We all had to heal our mutual wound.
Then, at the start of this year, the story came to a beautiful conclusion. I posted about it here:
https://www.transients.info/roundtable/threads/finding-my-blessing.4211/#post-26320
I was in the midst of a blessing of unicorns ('blessing' is the word for a group of unicorns as 'school' is the word for a group of fish) who were taking me with them. But I could not go as my horn was not there/was stuck in the roof of the dreamspace, unable to be freed whatever effort I put into it. However I shook, twisted, pushed, pulled, etc., I was both stuck and without a horn. Okay, so with that not working and wanting so much to join them, what to do? I asked Source for help and was instantly freed with a beautiful shining horn completing a stunningly rejuvenated body. I reveled in the joy of galloping and prancing together as our blessing had not been together is so many ages and the feeling of kindred rejoining was just about overwhelmingly beautiful.
Then I noticed that on tip of that gorgeous horn was... a party hat.
A sense of humour, ability to resolve any issue and endless compassion. What could be better than that?
Then a teardrop of joy dropped onto me from another unicorn. I just about melted in awe.
A unicorn tear of commiseration with grief had started this journey. Another of joy was ending it for me

In a recent posting unicorns came up again here (middle of page 10):
https://www.transients.info/roundtable/threads/the-event-is-very-close-now-10-9-8.2087/page-10
This gave me impetus to piece together this thread. Perhaps it will mean something to others too.
Here are some excerpts:
It started with a pic posted by
Hailstones Melt
with unicorn cookies (I think they are cookies) floating in a frothing mug of something to drink (probably cocoa as it looks very sweet).
From
Pod
:
Many years ago, my Dear Friend Christine was keeping watch as Lady Isis did a healing session on me (etherically) Christine saw a Unicorn pass from one side of the room to the other. "They are a symbol of Christ Consciousness" she said.
Looking at your Unicorns, I remembered and checked it out. Yup, she was spot on!
Unicorns are invariably shown to be White; this is a symbol of the purity attained by the highly evolved Soul, after self cleansing on the spiritual path, as she approaches the gate of Christ Consciousness. That purity is necessary so that one will be tolerated and accepted as one approaches Spirit to unite with Him.
The Unicorn
The unicorn esoterically represents the Christ in nature, or the Elemental Kingdom. It's spiraling graceful horn sounds forth the Holy Tone (the World) into all of creation to seed the Christic vibration into the earth; or humans, so lucky as to have an encounter with one of the sacred creatures. The unicorn is the least understood and known of the Christic symbols, primarily because of it's "fairytale" reputation. One can view them as a symbolic product of human imagination, or as an etheric creature of grace and beauty. Either way, the spiritual magic that the essence of their thought-form invokes is real enough to those who take the time to contemplate the symbol of the unicorn.
https://towardchakra8.com/2010/05/08/the-symbolism-of-the-unicorn/
From
Carl
:
The unicorn is associated too with infinite possibilities, wisdom, success, transformation, innocence, magic, spiritual sight, a shift between the visible and the invisible world, manifestation, feminine energy.