Healing Facilitator & Consciousness Guide
Staff member
Administrator
Board Moderator
Creator of transients.info & The Roundtable
Here are seven clear quartz crystals of mine. On first glance you may ponder and conclude that they are all the same. But each individual crystal is of a unique design, based upon their termination points (the end of the crystal) which have naturally formed within the Earth. Here is a list of each type of crystal within the picture shown.
- Phantom Tibetan Point
- Tantric Twin
- Left Time Link
- Right Time Link
- Window
- Master Dow
- Isis Goddess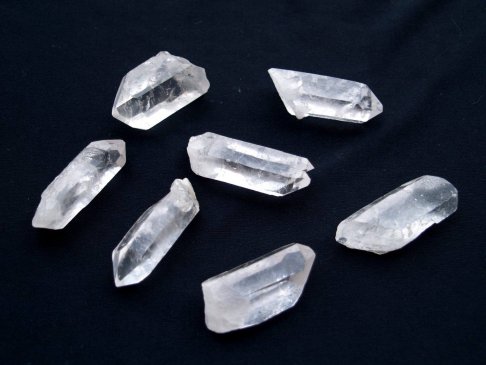 ​
Each of these crystals can be used for a different purpose, based on their unique design.
As one example, the Phantom Quartz is best used for the purpose of removing blockages, and moving ahead, in relation to healing.
The Isis goddess clear quartz crystal can offer insight, wisdom and intuition. So it could be held during a meditation or focus, but it can also be used with healing, specifically if a person has lost someone close to them.
Clear quartz in a general sense can be used to enhance and amplify the flow of energy and also improve the connection for those who wish to connect with their guides and higher self, or other beings. It can also be used to hold intentions and thought forms for periods of time, which can in turn be used for a number of different purposes, such as for healing or imbued inside a talisman which could be carried around.
Clear quartz is also known as a crystal of protection. It can be used for the purpose of psychic defence, whether the energies incoming are simply negative or from some form of intention, such as black magic.
There is a lot more that could be said about clear quartz crystals. Quartz is reputed to be particularly effective for chronic fatigue, arthritis, bone injuries, depression, diabetes, fibromyalgia and intestinal troubles. It also is said to improve mental and physical energy, stamina, and physical strength.
You may think twice the next time you see someone wearing a piece of jewellery made out of crystal, as crystals have multiple positive properties and many purposes which are very beneficial to us.