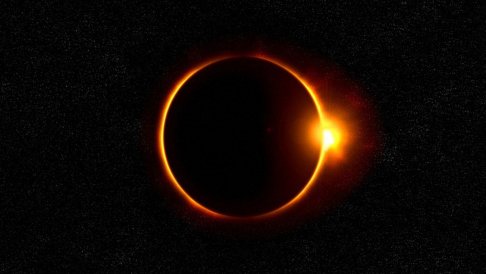 ​
A lot is happening astrologically at present. We have the Eclipse tomorrow in about 21 hours.
Yesterday Pluto in Capricorn squared Eris- the most distant planet in our solar system in Aries 23 degrees.
This is still in effect as any aspect is that is near to any lunation as the energy merges with that of the Sun and Moon at this time.
Eris is of the nature of Libra/Aries and strives for unity at any cost, even war. She can be aggressive and stands up for what she believes in and will get physical if necessary.
Pluto when challenged can get nasty and underhanded and in the sign of Capricorn could be inclined to blame and seek revenge and perhaps he has good reason, so again we get an influence of a fight between dark and light energies as for the individuals this aspect encourages is to question and fight anything that has meant oppression and injustice, in this case especially so in world affairs as when Eris is activated there is usually something fairly radical happening worldwide that inflames her and she usually gets very good results with the efforts she puts in.
This aspect, in this present time speaks of a need to create new systems in the world on all levels where there has been a total imbalance and abuse of power.
This happens at 23 degrees Capricorn and Aries which aligns with the 23 degree eclipse in Sag tomorrow. It speaks of a revolution that goes deeply into our cultures and will affect the masses.
Yesterday Mercury went out of bounds and its very interesting to see that tomorrows eclipse brings 'hir' to 21 Sag which is very near the eclipse degree of the USA Presidents Moon degree exactly, with the solar eclipse in Sag exactly on his prenatal total eclipse which is the reason he is President.
In turn these are opposite to his Sun almost exactly. For this world leader it is a completion or some sort, a fulfilling of destiny so it will be a great learning point for we astrologers to see the results of this eclipse for this man.
Due to Mercury being out of bounds which is out of the Suns control and not acting in ways that are expected, we can expect some very unusual proceedings from this point onwards as tomorrow is the day when any new President would usually be announced to the world and to USA. I am not calling this either way but I always expected him to get back in due to his Prenatal eclipses and Regulus on his Asc at birth.
But as I have always said we are ever learning.
There is always one major world leader affected by a total solar eclipse as the Sun represents Kings and Queens and other world leaders and has from ancient times.
On the eclipse tomorrow Mercury OOB will conjunct the South node so this is a destiny time , especially for anyone with planets or points at or near 23 degrees Sag and this is indeed a completion, a karmic/destiny point for this planet Earth, in areas of laws for the future, education, communication and media too I would say.
I definitely expect changes in the whole media system at this time and as Sagittarius is about law and court cases I do expect something major that will change the way media is used throughout the world so maybe this is social media or any media at all including TV news. Mercury is about networking and communication.
Venus will be conjunct Juno in Scorpio which if a square or opposition would generally be a trouble making aspect of someone stirring up gossip and past scandals or family skeletons.
This aspect could actually bring out truths that will release a lot of pressure in a given situation of something that has been hidden for a long time.
I see this as a positive for a global situation but also for individuals born around the end of the sign of Scorpio , 29 degrees or so .
I also see this as many people being able to lay some ghosts today, especially Scorpio types of course but also Librans and Taureans.
But Libra is the political planet and so this is very interesting as the other party in the USA political equation is Scorpio.
Tomorrow Venus in Scorpio is sextile to Jupiter in Capricorn which is supportive to both signs which supports the power of good and does not suggest anything untoward taking place but rather a natural progression to occur, and with Mercury also trining Mars the Eclipse news should be good news for the Majority of people.
But the shock value of the eclipse itself is not something that is showing us the "ordinary" will prevail either, so all I can say is "expect the unexpected" which will take many people by total surprise.
It seems to me whatever happens is going to subdue a lot of people rather than cause political mayhem.
There are instead signs of something happening that will take us all by surprise and maybe not related so much to politics.
The planets are being very secretive right to the last minute.
It will be when Venus moves into Sagittarius the day after the eclipse and Chiron goes direct in Aries that we will all be released from the thrall of the dark unknown. This is an aspect of "the truth shall set you free" and lets hope it certainly does!
To those wondering about Mercury out of bounds. OOB planets are about declination and don't happen all that often. Essentially, as the Sun travels around the zodiac on the ecliptic, it reaches a maximum northern declination (23N27) at the tropic of Cancer on the summer solstice. The Sun reaches maximum southern declination (23S27) at the tropic of Capricorn on the winter solstice.
Declination is measured as the earth's tilt along its axis as it orbits the Sun. The planets normally travel within that band of degrees. A planet is considered out-of-bounds when it travels beyond the ecliptic, or beyond 23°27′ to the north or south. This means planets are out of the Suns control and they act different.
The main bodies that can affect humans a lot are the Moon, Mercury, Venus and Mars. The main results of a planet out of bounds are that thoughts and self expression, feelings too and events become exaggerated unusual or unconventional.
If born with any of those first 4 bodies OOB then a person stands out from the crowd in certain areas and often has an amazing talent. Others just act differently to the norm and do not follow rules of society. I know as I have Mars OOB , astrologers often do, as Mars OOB can act like the planet Uranus so there is an interest in unusual subjects and our minds soar above the usual realms, and we can be a little rebellious and an unwilling to follow rules, as we question everything, especially authorities.
If a person is born with Mercury OOB they think outside the box and also question everything but they could also be at times antisocial, and due to seeing things differently can have misunderstandings with others. Their mind is ever busy and way ahead of most peoples so they can be impatient.
But any OOB person is definitely not bound by the usual conventions and rules of society.
While Mercury is out of bounds s/he will move through Sagittarius and then Capricorn from the 21st Dec when Saturn and Jupiter align so will be part of our entry into the new age. This in itself promises ultimately more chance to express ourselves in ways that are unique to us, and less rules but it also suggests a changing system within Govs and laws.
It suggests after this time now and this eclipse coming, that people are perhaps not going to want to obey rules or laws so much so there is bound to be some rebellion as after this last year people are tired of rules so they should be more independent naturally which I do not think is a bad thing as we have been slaves to the system for too long now due to the Saturn and Jupiter in Capricorn effect.
As there is about to be a lot of information released to the public , some of it quite shocking , and many people will feel misunderstood or inclined to speak or act without a lot of thought. we will have to be patient with each other and need to try harder than usual to maintain balance in our lives.
On the other hand for those who already think outside the box there will be excitement and enough of the unusual to ponder on and react to as we absorb a lot of new information that enlightens us more than anything else has in this last year.
The period until the first week of January is going to be pretty full on people, so take care out there.