Healing Facilitator & Consciousness Guide
Staff member
Administrator
Creator of transients.info & The Roundtable
Jul 19, 2016
5,359
13,800
This thread is dedicated to not just the
three books based on Tom Campbell's Theory of Everything
, but also all the other work that he does in connection to his explorations of consciousness via out of body experiences.
Tom Campbell
was once a student of the late
Robert Monroe
. Tom played a big role in the creation and early running of the
Monroe Institute
in Virginia, U.S.A, back in the early 70's. The Monroe Institute is a nonprofit education and research organisation devoted to the exploration of human consciousness. A few of our moderators and members of the forum have taken courses and workshops there.
Tom's day job is as a nuclear based physicist. He once worked with NASA within the
Ares I
program. He has spent over 30 years working with the U.S. Department of Defense. You can find his Wiki entry
here
.
On a regular basis Tom travels around the world running workshops where he shares his teachings on spirituality and life, based on his direct experiences outside of our reality, which is also referred to as astral projection on occasion (AP is just one of the many dimensions or planes that one can visit out of body). You can find Tom's upcoming event based website
here
(
https://www.mbtevents.com/
), which lists his future workshops. It's separate to his
other site
(
http://www.my-big-toe.com
) based on MBT (My Big TOE), as there is a lot involved with how Tom shares his knowledge.
I have experience with out of body exploration as well, and this has helped me a great deal moving beyond belief based systems within my Earth based consciousness, so I can very much understand where Tom is coming from with what he shares. I have studied a lot of published material from out of body explorers and Tom is really one of the most experienced out there. I see that part of his success relates to his scientific education and background, as he used science to 'test' many aspects of what he did while out of body.
Here is a six minute video from Tom, introducing you to his work.
Over time I hope we can add more information to this pinned thread to help others, based on the replies here, but also on the threads and discussions that come up on the board.
My Big TOE
is highly recommended by me and his a must read for people wanting to further expand their consciousness and spirituality.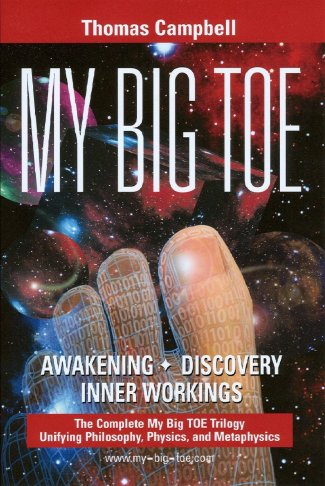 ​
Resources
Below is some additional information which has been added in relation to Tom and his work.
Oct. 2016: I transcribed an eight minute video from Tom when he talked at the University of Calgary in America back around 2014. In this important talk, Tom discusses the situations where we should be careful with interfering with the life path of others, and that once we progress to a certain spiritual level we will just know when not to interfere. He also mentions the reasons around why we should not fear death, as well as using our intuition with healing.
https://www.transients.info/2016/11/dont-fear-sickness-death/
Last edited: