Healing Facilitator & Consciousness Guide
Staff member
Administrator
Creator of transients.info & The Roundtable
Jul 19, 2016
5,353
13,777
I was recently helping a family member get a new phone by researching them online. The budget was for a mid to low range / class type of smart phone. She wanted a Samsung, as she was familiar with it, so I ended up advising her to get a Samsung Galaxy A30
I have had a crack in my Samsung Galaxy S5 screen for over a year now. I'm constantly running out of space on this device, and find it a bit slow at times — it lags up and freezes (probably because of not having enough space.
I decided to look for a phone for me.
For the same price as that Galaxy A30, I found a very good phone, the Xiaomi Redmi Note 7 4GB/64G.
Xiaomi is a Chinese company which seems to be becoming rather popular. I actually have one of their electric scooters, as I got that to save on bus costs and halve the time it takes to get to my part time technical writing job in the city here. The scooter I got was rated to be one of the best for under the one thousand dollar range.
From what I can tell based on many reviews, even though these items are cheaper, they are still provide a quality product.
The Xiaomi Redmi Note 7 is on Android 9, but the issue is that it has the MI User Interface. (MIUI) This is an aftermarket firmware for the phone and that means you get some extra features and apps. The complaint is that there is bloatware, and ads in these aps. But they can be removed, so I didn't see an issue with this. (I don't need to use their aps, I can use Android versions.)
In the past, Xiaomi devices only provided a one version update to Android, and then MIUI updates for four years. This means that rooting the phone is required after a few years, which is a technical method of gaining root access to the phone so you can do what you want with it, such as installing Android without MIUI.
The way I look at the situation is that in three or four years, will I still want this phone? So is it a hassle that I have to deal with MIUI? No… I don't think so. But then I would be fine with rooting the phone if I needed proper software updates.
This phone is pretty impressive considering the price in comparison to other phones. It's been rated as one of the best for the mid-range phone market.
(I personally have no interest in getting the latest phones as they are just a waste of money and these mid-level phones are fast enough to do what you need.)
I found this site here,
https://www.gsmarena.com/compare.php3?idPhone1=9513&idPhone2=9554
, to be helpful with comparing the technical specs with other phones.
For example, the Samsung Galaxy A50 would be one of the alternative phones to get: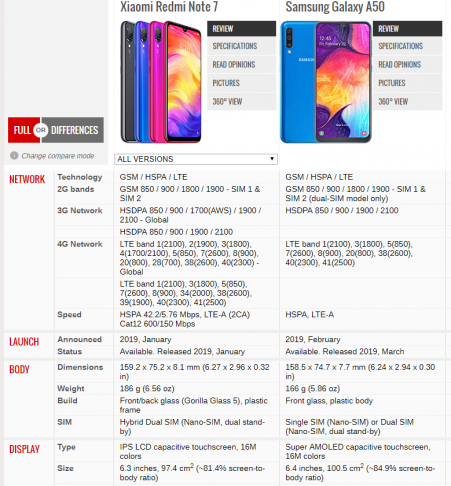 What's especially interesting is the benchmark tests:
And as for the technology in the phone, the Redmi Note 7 is still superior, not in everything, but the stuff you would consider most important, and is about 30-40% cheaper in price than the Samsung Galaxy A50.
Well, I just wanted to share my experience with finding a smart phone that you didn't need to pay an arm and a leg for, yet is still quite fast and fine to use rather than having to get a top of the line phone that many Mobile companies offer with plans that actually cost four times as much.