Star child
Retired Moderator
Kristy submitted a new transients.info article.
The Top Eight Crystals Of The New Age World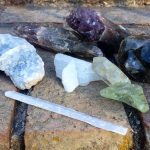 I work with crystals a lot and over the years I have been able to connect with them faster than I used to. I do have my favorites like everyone else, but I also try to give all of my crystals a bit of love and attention.
One thing I have noticed lately is that there are more and more people with growing interest in crystal energy and which ones are best for this or that.
I have put together a group of crystals that I am calling the top eight of the New Age world — this of course is straight from intuition and this list is not limited to just what I say. All of the photos are from my crystals.
So without further ado. . .
Angelite
Last edited by a moderator: