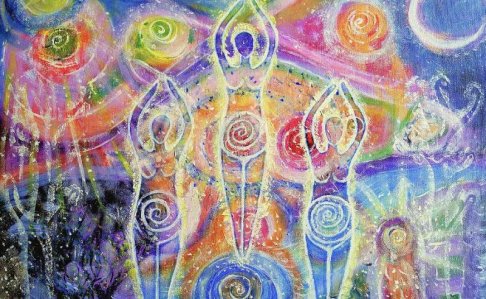 ​
The planets have been quiet in the last two days since the square of Mars and Uranus, which caused some fiery events in some parts of the world, and for others some health events of the unexpected nature.
For myself, I was let off lightly, but the strangest thing is that several dishes broke in my kitchen as if they leaped out of the cupboard for no reason.
Even this morning a handle broke on a favourite cup. I will be pondering on the symbolism of all this.
Today the moon is conjunct Jupiter and squaring Neptune, so am hoping for more ease and positive energy throughout the day. A good day for pondering on the bigger picture of life as well, or communing in nature.
Tomorrow which is two days before the partial lunar eclipse which will be at 24 degrees 04 Capricorn, the Sun in Cancer will oppose Pluto in Capricorn at 21 degrees.
This is one of the year's more powerful aspects, and why the coming full moon eclipse will carry some weight, as any strong aspects of the Sun near an eclipse is drawn into that event and energy.
For Cancerians and Capricorns, this is like a new beginning, especially Capricorns born around the 24 degree mark which would be 13th January to the 17th . Or Cancerans born between the 14th and 20th July.
(These are loose estimates)
This period until after the eclipse is also highly cathartic for Scorpios, as Pluto is their planet, and Leos who are ruled by the Sun.
This is a real rebirth influence for all of us in fact and a time to accept that the past as we knew it has gone, and we are about to embark on a new journey. Its also a time to face any of our daemons and slay them once and for all, if we are to let old parental patterns for good.
This means all the petty fears and self doubts, and sabotage too we may have been using to stop ourselves advancing further through the ranks of either career or personal growth on the spiritual scale.
This doesn't mean tomorrow and coming days will be easy or even pleasant for some as loss of anything, even familiar parts of self is a sad thing, and often there can be a physical event that is to symbolise what we are going through within self.
It is highly possible that tomorrow or in the coming days there may be a public loss that is felt by the masses, as this is also another Pluto factor( the masses on this planet), and we may feel a collective sorrow. Or perhaps it could be more personal for some.
Saturn in Capricorn, as if knowing about this and he should as he rules the eclipse, will square Pallas in Libra as if asking for help and counsel on this matter which is something that Saturn never really needs as he is the karmic teacher, and has many other roles a well.
If there is a big event then with the Pallas effect there are those who will know the etiquette and protocol of how to deal with it, even if it is a most difficult thing to handle to keep all parties happy.
These signs are on the Cardinal axes the eclipse is activating, so its all quite interesting on a Global scale.
Even on the day of the eclipse we have Venus opposing Saturn which is kind of sad in itself, and the Moon conjunct Pluto in Capricorn.
Then the following day Venus also conjuncts the north node in Cancer.
I wonder which world figure, probably female will be most prominent in the days ahead as these initial aspects play out their little dramas.
The main thing to remember with these eclipses is that they bring breakthroughs so we can move on from the past system of blame, punish and control, and let go of the old ways- the old laws, as we move into a new future that caters more to peoples needs on every level without outdated rules or laws getting in the way.
My image today is from a brilliant artist, Reiki healer, author and art psychotherapist, Doula too, who uses art and science to raise awareness about birth. Thank you Alex Florschultz
Last edited by a moderator: