Healing Facilitator & Consciousness Guide
Staff member
Administrator
Creator of transients.info & The Roundtable
Jul 19, 2016
5,341
13,759
This thread is here to not only discuss what the KTS is, but it provides a space to share your own test results of the Keirsey Temperament Sorter (KTS). You can find the test under the heading,
The Actual Test
, lower down.
Note that this thread compliments another one we have up, the Mayan Astrology Readings — Find Your Dreamspell Galactic Signature. In terms of self-development, and healing while on the path, getting to understand yourself through systems like these are very, very beneficial.
KTS, originally designed by David Keirsey, is a series of 70 questions that help to determine which one of the sixteen role variants you come under. The purpose is really about becoming more self-aware, and therefore learning additional data to help you understand yourself better and why you do what you do.
In a way, this reminds me of an astrological profile, but from a pure psychological perspective.
Keirsey originally included this questionnaire in his book
Please Understand Me
. The book description is found below.
"Does your spouse's need to alphabetically organize books on the shelves puzzle you? Do your boss's tsunami-like moods leave you exasperated? Do your child's constant questions make you batty? If you've ever wanted to change your mate, your coworkers, or a family member, then "Put down your chisel," advise David Keirsey and Marilyn Bates in this book of personality types. We are different for a reason, and that reason is probably more good than bad. Keirsey and Bates believe that not only is it impossible to truly change others (which they call embarking on a "Pygmalion project"), it's much more important to understand and affirm differences. Sounds easier than it is, you might say. Well, this book is a guide for putting an end to the Pygmalion projects in your life and starting on the path to acceptance."​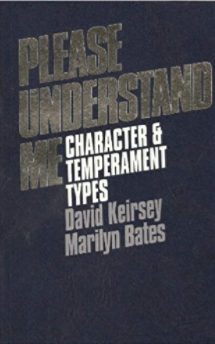 ​
When originally putting this system together, Keirsey looked at the views of a bunch of psychologists or psychiatrists: Carl Jung, Erich Adickes , Ernst Kretschmer, Alfred Adler and Isabel Myers — mentioned as predecessors in the psychology of temperament and/or personality, within the above.
David Keirsey became familiar with the work of Ernst Kretschmer and William Sheldon after WWII in the late 1940s. He went on to develop the Temperament Sorter after being introduced to the MBTI (
Myer-Briggs
) in 1956. Tracing the idea of temperament back to the ancient Greeks, Keirsey developed a modern temperament theory in his books
Please Understand Me
(1978),
Portraits of Temperament
(1988),
Presidential Temperament
(1992),
Please Understand Me II
(1998),
Brains and Careers
(2008), and
Personology
(2010).
This table coming up shows how Myers' and Keirsey's types correspond to other temperament theories or constructs, dating from ancient times to the present day. The table also helps to depict and break down the sixteen personality types that your result will end up being (far right).
​
For the moderators and administrators on the Forum here, this is actually quite intriguing as your personal results relate to how you interact with others. For me, I'm curious to see the results of the current moderators.
This test is one of the most widely used personality assessments in the world, as many corporations and businesses use this in the workplace
.
While similar to the Myer-Briggs Type indicator (MBTI), there are significant theoretical and practical differences between the questioners and results.
The Actual Test
There is an official site that lets you fill in a form, and then get the results after registering, however, there's a catch. You only get part of the result, so I'm referring to there being four columns in the image I posted above, with the Role Variant being the final outcome (you don't get access to this from the official test).
Therefore, the best way to do this is to print off this PDF here,
http://thechangeworkscoaching.com/images/KeirseyQuestionnaire_Sample_Ans_Sheet_Scoring_Instructions_Form.pdf
, mark down your results and follow the instructions for adding up the numbers to determine the personality type, out of the sixteen different ones. (The sixteen are listed in the table image above, in the final column on the right.)

Note that the actual scoring system and calculating the results can be difficult to work out, even though there are instructions, so feel free to send me a message or anyone else you see on here who has done the test, if you just can't work out how to add up the questions to get your results.
Once you work out the four letter abbreviation, using that test in the PDF, you can then find your personality type write-up below.
Conservator
(
Supporting
)
(ESFJ)
Provider
:
Supplying
(ISFJ)
Protector
:
Securing
Administrator
(
Regulating
)
(ESTJ)
Supervisor
:
Enforcing
(ISTJ)
Inspector
:
Certifying
Entertainer
(
Improvising
)
(ESFP)
Performer
:
Demonstrating
(ISFP)
Composer
:
Synthesizing
Operator
(
Expediting
)
(ESTP)
Promoter
:
Persuading
(ISTP)
Crafter
:
Instrumenting
Advocate
(
Mediating
)
(ENFP)
Champion
:
Motivating
(INFP)
Healer
:
Conciliating
Mentor
(
Developing
)
(ENFJ)
Teacher
:
Educating
(INFJ)
Counselor
:
Guiding
Engineer
(
Constructing
)
(ENTP)
Inventor
:
Devising
(INTP)
Architect
:
Designing
Coordinator
(
Arranging
)
(ENTJ)
Fieldmarshal
:
Mobilizing
(INTJ)
Mastermind
:
Entailing
Please feel free to share your result below. You can just include the four letter abbreviation, or more information if you like, such as anything that really stands out for you within the personality type listed above. (Just copy and paste it within your post)
There are a lot of links in this thread, please let me know if I made a mistake and got one wrong!
Last edited: