Frequency Modulator
Staff member
RT Supporter
Global Moderator
Board Moderator
Summary:
Can you get through the eye of the needle without losing everything you've worked for? It takes some personal reassessment, for sure, but the truth is that staying true to yourself is the only way forward. Freedom from the past is the most life-affirming move you can make now, so free yourself from concepts that worked in the old world. A new field of play is shaping up. While it may seem littered with the detritus of a dying order of things, you can find your balance. Work together, as one, to win.
Ten of Pentacles (reversed) — The Devil — Two of Pentacles (reversed)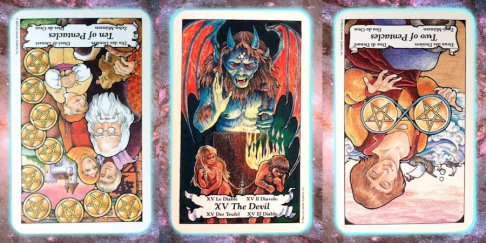 FOUNDATION: Ten of Pentacles (reversed)
It seems like a good time to re-evaluate some things. What's important to you right now, and how you go about achieving that, are in the line of focus, particularly as it relates to your sense of well-being. You've gained the very important initial comprehension of what it feels like to be within the realm of manifest dreams. Just as you approach the entrance to a reality of your soul's making and your own will and heart's desire, the surroundings shift. Your dreams are just as stable as ever, but what about all this stuff that's happening in every seeming direction? How are you going to fare with doing the thing when everything is suddenly moving in a decidedly different mode and method than when you first plotted your course? The answer, of course, is simply to maintain. Stay aware of what's of the essence without getting pulled out of your center. Avoid unnecessary risks that could easily move you out of balance with regard to reaching your chosen point of expansion. It's just ahead, but there's a sense that directionality isn't what it used to be. Stay steady. Just ahead is still there, and everything you need is at hand. You didn't come this far to fail, and you have what it takes to get through the eye of the needle.
LODESTONE: The Devil
Consider your options. You could continue moving ahead as if everything is as it was. You could do that scary thing and reframe yourself within an emerging but not-yet-defined picture of how things are shaping up to be. Either way, you may feel like you're in the dark. As the road ahead is changing course before your eyes, so too is the road behind you shifting. Moving backward, then, might not be the wise choice, for your feet might find the spot they once were in no longer has any grounding. Staying put might be the wise choice for the moment, but don't linger overlong. What you are taking in right now as the way of the world is also set to change, and soon. You're going to have to move on, prodded by a feeling of something poking in your back to get going while simultaneously feeling bound to cords of your own creation. What you're attached to is in need of re-evaluation. There's no need to let anything hold you back, least of all your own concept of what you're supposed to do. The sooner you realize you have the ability to release yourself from expectations, the sooner you'll be free to explore, expand, and express that divine self you've been steadily holding within your inmost heart through the most dire of experiences life has thrown at you. Can you take on, instead, the mantle of mastery? It is much easier to manage, you'll see, if you dare.
MOST OMWARD DIRECTION: Two of Pentacles (reversed)
When all is said and done, there's going to be a resolution. But first will come the reassessment. With clarity comes a wider field of view, and with that comes a lot more detail to sort through. You're going to have to bring a lot of information and more into balance with your own sense of self. As the things of one world drop from their point of stasis, the field is going to become more and more littered with stuff. Consider the level of vibration that currently encircles your sphere of living. How much input is too much input? When does the extent of information become little more than white noise? Within that screen of fully randomized play of black and white, you will begin to discern defined strata of frequency definition. Color will come into resolution, and things will begin to make sense, albeit within a fresh vista clear of debris. All you'll need to do is what you have in hand, nothing more, but nothing less, either. Don't try to take on everything at once. This new understanding of reality is a group effort. Work together but take individual responsibility for finding your own balance within a more complete, more honest holographic whole. You're being given a wide-open space within which to redefine what you want, for yourself and as a collective. It's not about might makes right, nor about who has the most hands in the air. It's about finding yourself, and in doing so, finding the true common ground that makes you fully human.
THIS WEEK'S CONTEMPLATION
"Love nibbles at the edges of man's knowledge of divinity until love is all — and creation of love is all — that is seen and desired. At that point, love has rendered 'no win' to 'free to do anything' through a test of faith to dent your protective illusions of being special while everyone else is not. You are all special, and that becomes apparent when love has gotten past the creative rules and regulations your mind has set up by telling you, in some way, that you are loved. It is at that point that the game begins to shift."
— An excerpt from
Opalescence: The Pleiadian Renegade Guide to Divinity
© Maryann Rada, all rights reserved. Repost permitted with link to original post.
When all is said and done, there's going to be a resolution. But first will come the reassessment. This new understanding of reality is a group effort.
pleiadiantarot.com