QHHT Hypnotherapist, Energy Healer, SpiritualCoach
Staff member
Administrator
Creator of transients.info & The Roundtable
Jul 19, 2016
6,997
15,078
Just how far down do you think the deepest caves on the planet go? As far down as the Washington Monument is tall? How about the Eiffel Tower? A project dubbed 'The Call of the Abyss' took explorers to the deepest cave on Earth. They ventured to a breathtaking depth of nearly 2,200 meters.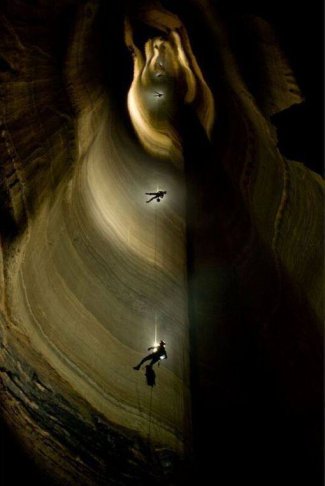 ​
I was wondering how oxygen would work down there—would you run out? Well, after a quick google search it seems like oxygen isn't a problem, however, heat may be if you run into some underground magma, but also fumes coming in the cave from any man made pollution such as car exhaust from a highway. Such bad air quality can build up in pockets of the cave.
But the point of posting this on this board is simply that I wonder if any cavers run into ancient structures from long lost civilizations, and for that matter, ET bases. The ET bases probably have some proximity alarm so that would be an... interesting experience.
I've been into a few caves and one memorable one was in southwest NSW, Australia. Something I love about them is how there is just no sound. It can be very peaceful down there. I would love to have a property with a cave, and then use that cave to go and meditate.
Feel free to share your own caving experiences!
Source:
https://www.theblaze.com/stories/2014/03/28/underground-explorers-and-the-shocking-dimensions-of-the-worlds-deepest-cave-how-far-could-you-make-it