QHHT Hypnotherapist, Energy Healer, SpiritualCoach
Staff member
Administrator
Creator of transients.info & The Roundtable
Jul 19, 2016
6,634
14,921
I'm about two thirds through the second episode of
Chernobyl
, a USA/UK HBO produced five episode drama, based on the 1986
explosion at the Chernobyl
nuclear power plant in Russia, which ended up being one of the world's worst man-made catastrophes.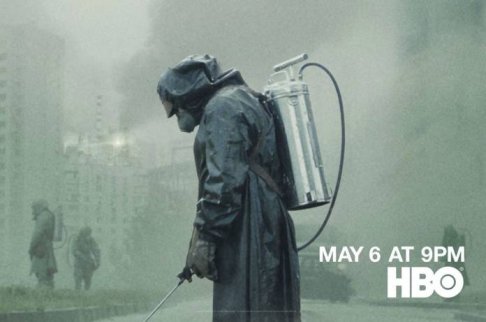 ​
I'm enjoying the show so far. The reasons why I bring this to people's attention is because of its educational value and which leads you to wonder what would occur if the Earth decided to chant one more time, as I once put it in a
poem I wrote
about the 1883 Krakatoa eruption, or in other words, send a few large tsunamis around that could end up creating a problem for nuclear reactors, such as a meltdown.
Chernobyl does an excellent job at not only portraying what occurred — with a great supporting cast including Jared Harris, Stellan Skarsgård and Emily Watson — which was rather amazing in terms of the Science around the disaster, but also reveals secrets kept from the public, and showcases the moral dilemmas many went through.
Only three of five episodes have come out so far, yet after forty two thousand votes, it's got a score of 9.7 out of 10. Higher than Game of Thrones, which is sitting at 9.4 after one and a half million votes. It's coming up as number one on the highest rated shows ever released
for IDB ratings
. Of course, it's early days and will likely slip down the ladder.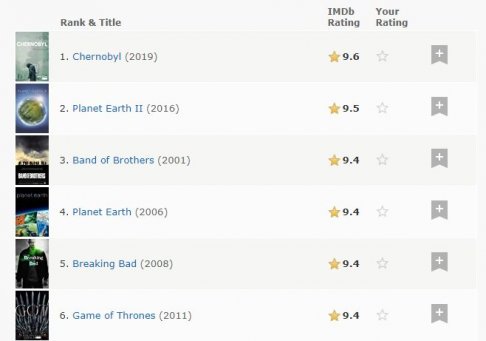 ​
We all can do with some entertainment, and Chernobyl is a good choice for a history drama. Heroes are born through their actions, whether they know it or not, as many situations run their course.
One thing that came to mind in a recent scene, was how concerned ETs have been, and still are, with what we get up to with nuclear technology. While it's a well-known situation in published UFO books, Steven Greer brought up the topic again of crafts being seen that also disabled nuclear weapons and tests at US bases, in his 2017 book,
Unacknowledged: An Exposé of the World's Greatest Secret
. (It's also available as a documentary
on Netflix
.)
Many of us know that in one timeline the Earth's consciousness has made the decision to move forward with a series of large earth changes, to help cleanse the planet because not enough people have/had/are growing and raising their vibration high enough (in other words, not waking up and changing their ego based ways). This has been picked up by many sources that tap into the other side, not just in recent years, but hundreds and possibly thousands of years ago, such as Nostradamus' predictions.
I've had this come through with a number of past life regression clients (QHHT) over the years, even one recently, who've seen the larger earth changes occur. My feeling lately is that there are timelines that are floating around and nothing is set in stone for each of our personal realities, as of this moment. Just because someone in my timeline has it appear, doesn't mean it will come to pass for me.
I encourage an ongoing discussion in the replies about this situation below, and feel free to share any sources you've come across that may relate to the thread topic and all that I've brought up.
Here is one example. Steven Jones, the husband of a friend of mine, Tai, who's also a QHHT practitioner in England, performed a QHHT session which talked about the situation briefly, of how the ETs are stopping us, and monitoring the use of nuclear weapons:
Earth Guardians & Higher Self | A QHHT Session By Steven Jones
. Another example is one of the older QHHT sessions I conducted with Lai, where a future experience on Earth came up after a radiation based disaster, and basically an extinction level event, where afterwards the planet needed help to heal, including the regrowth of life and consciousness:
Multiverse, Grid Consciousness, In-Between, Karma & More | The Cosmic Journey of Lai Part 2
.