My earliest amulet was purchased during a cross country trip while I was in college. It was a silver engraved hamsa. It was small and special, but I only learned later after its purchase that it was meant to be my protector. Eventually, someone asked to borrow it, and I let it go, not wanting to be possessive of anything material. It was not a good idea, as I missed it the rest of my life. It must have been even more magical than I realized. I am still connected to it. I can not get it back.
I have since purchased, created, broken and lost amulets. I have several now. I just purchased another two hamsas (one small and one larger one) chosen long distance after an image relay with a friend who was shopping in an antique store in Djibouti. Their origin is a mystery. Maybe Djibouti. Maybe Yemen. Maybe Morocco. I have not yet bonded with these yet. They are on the wall of my study: one is wearable and the other larger one is possible to wear if I want to make a jewelry statement.
The word "amulet" comes from the Latin,
amulētum
, meaning an object that protects a person from trouble.
Do you wear an amulet? Stories and photos welcome. I will post photos soon.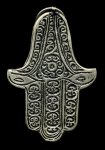 Last edited: