I actually thought there were 5 of these, but apparently there are 8.
http://wisdomwithin.co/files/The-8-Clair-Senses-a-visual-guide-to-the-spiritual-psychic-senses.pdf
(The website is the pdf - no piracy here)
Which do you have?
I realised that Claircognizance is my dominant clair. I just pluck stuff out of the void, normally book plots (???) but also answers. Most of my life I thought if you weren't Clairvoyant (visual) then you had no Clairs. But reading the PDF it appears I have access to most of them. Experience has taught me that you can get access to the others too. I have started this process. I will update on how that goes.
Looking at these 8 explains a hell of a lot. It also explains why I don't see anything in meditation. When I first started all those years ago I thought there was something wrong with me, that I was disconnected from God (thought it was God way back then) because I didn't see all these magical colours, faeries, etc that people spoke of. Now it's just likely that lacking Clairvoyance I don't see them. Instead I just pop into the void.
It also explains why I pick up all the negativity from people. Both Clairempathy and Clairsentience and Claircognizance to a point, all add up to this. Picking up emotions then feeling them. My guess is of late the energy hitting people has been releasing it and I pick it up to transmute it, as per the beacon stuff, but I also feel it as per the clairs.
I thought it might be interesting to get a read on who has what.
I have put a strikethrough the ones I lack.
Also it might be beneficial to post this in the hidden section instead (because there are certain "darker" aspects out there who target people with all of them). If this is an issue someone might take care of it? I don't wanna put all my threads in private, it's unfair on the growth of the forum. These aspects cannot touch me as I am shielded but not everyone is.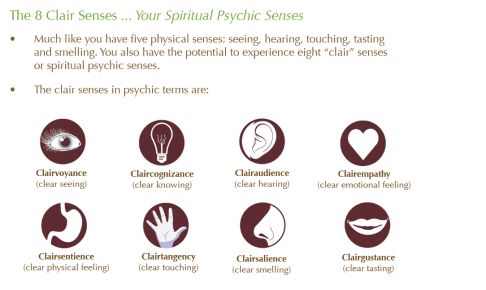 thesmileyone:
-
Clairvoyance
- Claircognizance
-
Clairaudience
- Clairempathy
- Clairsentience
- Clairtangency
- Clairsalience
- Clairgustance
I am going to start working on Clairaudience first. I will let you know how that goes