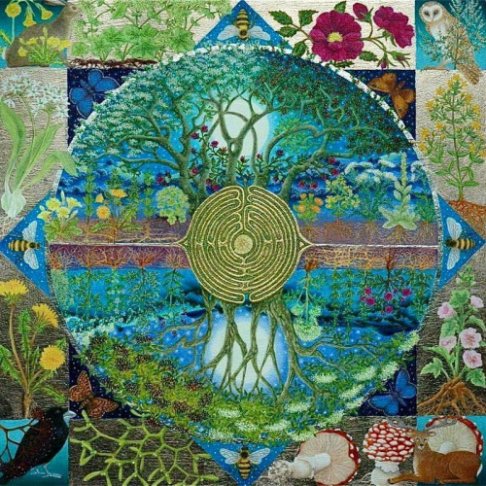 ​
The sun moves into Taurus today, to shine light on these earthy, stoic, practical folk with the many talents, and the determined, charismatic natures, for the coming month.
Be prepared to take centre stage Taureans.
This ingress of the Sun takes place just after a very intense square of Sun to Pluto so this is quite auspicious as to what is coming in the weeks ahead and many people are feeling this as Sun/Pluto is a rebirth aspect of the deepest kind, adding depth and wisdom from our deepest selves which we can all tap into.
Our dream life will also be vivid in the coming weeks as we are all working on self and life itself on different levels of "being" to before, so much will be revealed to us and for many of us it will be like living in a different dimension already, as I am noticing all manner of things around me happening that leave me in a kind of disbelief but also in awe, both of human nature and also of this "play" that we are part of at this point in our time line on Earth.
For Taureans your "new beginning" New Moon will be on the 30th April in a lot of the Northern hemisphere and for many of us in the south it will be on the 1st May., It all depends on your time zone AND it will be a partial eclipse at 10 28 degrees.
So it will be a new beginning with a twist followed by two weeks of unexpected events world wide, so will write more about that before too long.
Before that time the Nodal Bind will end on the 24th April and I have some very high hopes for that as a game changer for the world and we on it. This lifts a lot of restrictions and its just a matter of time now before there are even more breakthroughs in our freedom to move around uninhibited, as no matter how we can demand our rights in our own country the airlines are still under control of various Govs at this point in time, and the borders are too even though it is not allowed by Natural/Common "lawful" law as opposed to legal law, to take away peoples individual rights.
At the end of the month Pluto who is a major player at this time in world affairs will station before going backwards until the 8th Oct so that is a key date for Taureans with their relationships and for Capricorns and Scorpios too, as well as the rest of us for a turning point of reassessment of our values and power, and much more , specifically for any major rebirth type aspects happening in our own birth charts and lives, extra powerful being so close to the eclipse in Taurus.
In the meantime for all of us Taurus energy is grounding, stabilising and brings our security zones into focus.
It will give Taureans a chance to be at their best and renew their intentions and goals with courage and strength.
On the 4th/5th of May the Sun reaches Uranus which is a gamechanger in itself at this time and should bring an unexpected world announcement or event and as this is between eclipses I hope its good news financially as that is also in the air with the eclipses about to happen, but this one is bound to be about a world leader as the Sun usually is in in contact with a major planet, AND when this happens between eclipses , the next one being lunar and total mid month.
Uranus is the futuristic planet of change, science/technology, and original/ inventive ideas which has been in Taurus since May 2018 and will remain there until 28th April 2026.
Being an outer planet he stays in a sign for many years and is currently working on Taurean energies which include property matters, finances, anything relating to food, growing things, trees, the good earth itself, geology, businesses , luxuries that bring pleasure to our lives, all that brings comfort to our homes and surroundings, the precious things of the earth, gold and silver and also having a lot to do with Bitcoin and the like.
Uranus is also helping to bring out more of our talents and abilities that have been hidden especially for Taureans.
When he moves to the degree of a Taureans birth sun he will be working on that specific Taurean for up to two years. Most Taureans resist change but Uranus will force this to happen in some specific area of your lives.
During the Suns transit through Taurus, Jupiter will move into Aries which will be highly motivating for all of us mid May.
Taureans get their turn from mid May in 2023 for the best positives of having Jupiter in their sign.
The Moon is Perigee today in Sagittarius – a day of extremes giving power to the aspect of Sun/Pluto yesterday which in itself globally is about power plays between world leaders and there was at least one war beginning yesterday, Turkey moving in on Kurdistan I believe and as I don't hear world news often in this small country as everything is censored, there are bound to be other events happening of which I have not yet been informed of a major type on the world scene.
This is when I expected some major retaliations beginning on other moves being made by certain groups and politicians to oppose the U N agenda that has done so much harm which we all know about.
And speaking of Perigee there have already been some unusually large Earthquakes in Philippines and Tonga so far .
Perigee acts like a Full Moon pretty much…
The main aspects today are positive and supportive for almost all of the signs .
Scorpios and Leos, Capricorns and Arians are probably reeling a little still from the Sun/Pluto influence and any others with the degree of 26 degrees prominent in their life patterns, as things have been slightly out of sync for many, even if this has manifested just below the surface of conscious "knowing" .
Tomorrow we have a conjunction of Venus conjunct Nessus at 17/18 degrees Pisces . Venus will soften the influence of nasty Nessus with all his Scorpionic undertones of blame and jealousy, and betrayal that is an underlying theme when shadow aspects of self or others comes up to deal with.
This to me is merely an extension of Sun/Scorpio and all that we are facing in the world at this point in time , the effect on our emotions.
The way to fight any direct assaults on our senses in this vein are to reflect love back to the perpetrators and to surround self and loved ones with protective love and light , then distance ourselves when we can.
Juno will move into Pisces tomorrow to support Venus in her battles against the dark energies still so prevalent in our lives as Juno will reveal what has been hidden for all to face one way or another within relationships and families , teaching us renewed compassion and empathy for our loved ones, as many of us have lost contact with the same for various reasons , and with others we are seeing aspects of their nature previously hidden to us, positive or negative, which brings us a Full circle to the beginning of my reading when I was writing how life is bringing a gamut of different impressions and emotions daily to process as best we can but remember LOVE is the reason and the cure is of the utmost importance at this time even if you have to walk away from the physical form of the same.
Love transcends time and space and is there for eternity and will see us through to the time when we all merge again with the Godhead when time is no longer important and in fact will not exist in the form we know it now.
Last edited: