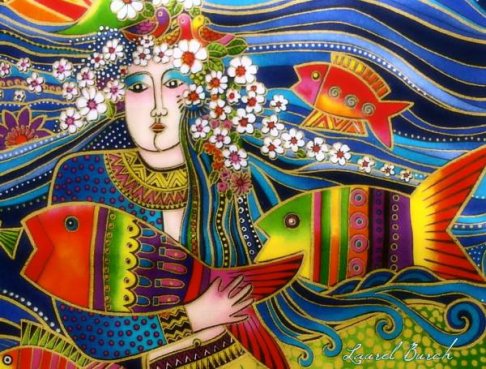 ​
The Sun moves into the sign of Pisces today to shine light on all of we fishes for the month ahead.
I am quite relieved about that as when the Sun is in the sign before ones birthsign, it is a 12th house energy which brings up a lot of karma/past life factors and sometimes a few health issues to deal with for Pisceans, and maybe for some, certain restrictions, especially with the line up of planets in Aquarius in the last weeks.
We fish have both Saturn and Jupiter in our solar 12th house all year (Jupiter on and off) so we will reap a lot of benefits in our lives from the efforts we have put towards our health on all levels in the years gone by, and get a chance to brush up on all the skills we have brought with us from other lives and past experiences especially in lives as far back as Atlantis when there were similar technologies that are now being developed in this time.
Those of us, Pisceans or not who come from the stars as volunteers in this life time will feel right at home with the Aquarian energies as this period now is why we came to observe and help with the transition that is being made at this time to a better world and system.
In some Eastern cultures this is called the Golden Age we are entering and we can expect some special incarnations returning to the planet to help with this in the coming years. I know of one that is due in 2026 to help with the beginning of this Golden age..
Jupiter will begin his move into Pisces from mid May this year to take us to the next stage in this journey. Pluto will add his help to when he moves into Aquarius in March 2023 although like Saturn he will take a year or a bit less to move totally into the sign.
This will happen just as Saturn moves into Pisces so that year will be one big healing, rebirth journey for so many.
But back to the present, the Sun in Pisces is important for the worlds healing from the past year and this day is important for all of we Piscean peoples as we can be our best selves in the 4 weeks ahead, using our creativity and intuition well, our empathy and compassion towards others and special healing/psychic skills most of us were born with.
The Full Moon that will influence Pisceans happens on the 27th February in Virgo.
This is a natural health full moon and it was last years same full moon that seemed to exacerbate the influence of the current virus in the world as it appeared to spread rapidly and so did the panic and fear around it.
One way or another it changed our lives and shocked our souls and many of us it realised there was more to this than met the eye and we learnt about the new agenda for sustainable living which had been named aptly Agenda 21/30, and we found out this was a very real thing and had been sneaking up on is since 2017 when most world leaders signed up for it under the heading of Sustainable living. (USA did not sign up for it).
What it meant was that from 2021 until 2030 a whole new system would be introduced so that when the virus happened they put into place a pandemic plan that had been waiting for such an opportunity.
There had also been a climate change plan that was similar only that seems to have be put on hold along with the global warming factor in the meantime especially, as there is record cold right now in various parts of the world.
And many astrologers know that in fact the earth is cooling more than heating but that the great cycles change weather patterns and seasons shift slightly so glaciers melt in some places and new ones form in others.
As well as this when global cooling happens there are often extremes in heat and cold and the ocean currents are warmer in places.
But there are more storms and earthquakes likely as is expected this year in such times.
Saturn and Jupiter together in 2020 brought drought and this year in Aquarius there is extreme cold in places, as Aquarius is all about snow and ice. These planets have always had a huge effect on Earths weather.
In 3 days from now Mercury will station before going direct in Aquarius(11 degrees station point), which will help us all get back on track after the time of communication and information being a bit off centre and media being the same.
From the 21st here and 20th in other parts of the world, communication will flow again and any information that's missing will turn up if there have been delays in the same.
This Rx has affected electricity and a lot of media technology as well, causing a few hiccups in that direction.
People ruled by Mercury will be happier and more in the "know" again. This means Virgo and Gemini "types".
Aquarian type people will also feel this strongly too but this is for everyone of course. Its time to put into good use what we have learnt during the Rx period.
Venus will enter Pisces just before the Full moon in Virgo(27th ) so this will be a blessing for many of us also and soothing for our feelings, good for our social life and creativity in the 3 weeks ahead.
However as this moon in Virgo approaches people and especially Pisceans and Virgos may have more health and safety concerns and feel a sense of panic as there will be more than the usual details and data to deal with, the little but important things in life and some may be having more tests than usual or feel a need for health checks at least.
There may not appear to be enough time to get everything done that is needing attention.
It's interesting that this is the pets full moon. as Virgo rules our small animals and sometimes large. So this is a good time to get their checkups too if needed.
After the slight anxiety of this Full Moon on approach, things will settle for the weeks ahead for we Pisces.
We get to celebrate our new beginning New Moon on the 13th March.
Of course this Pisces period beginning does have a twist which I wrote about yesterday, the highly powerful square of Saturn/Uranus which basically means more and more people are going to stand up now and fight for their rights, probably against lock downs and Gov rules so this year is going to bring some upheavals for sure.
There will also be more adjustments in this period with our banks and finances, our economy in various countries which will be one of the major reasons that people stand up to fight for their rights.
Peoples actual "feelings" are going to be heard and life will not be so "clinical" after this time. More compassion will be generated especially in the month ahead.