Multidimensional Healer, Astral Projector & writer
Staff member
Board Moderator
Today finally releasing my new artwork ... I received the message of this Wave Tree yesterday morning and had to integrate four downloads...
this artwork is the result of out of body experiences I had to Andromeda Galaxy and also M33 The Triangulum Galaxy I draw during the last weeks.
I will post another thread with the Triangulum Galaxy as the message is very specific to that star. Some say that M33 is already part of Andromeda Galaxy. The ET's I encountered in their mother ship here last September are from Andromeda.
i hope you love this artwork because it took me time and energy to release it ..
« March 1, 2019
SOUNDS OF THE UNIVERSE
ANDROMEDA GALAXY
Universe made of sounds and frequencies shaped in forms, in sacred geometry all your soul is made of.
Each shape creates a sound with specific frequencies matching with your soul's imprint.
In Andromeda Galaxy, there is the inner source, those sounds' fabric spreading in all the universe with Grace and Peace.
Are you ready to channel them? Are you ready to receive them? Are you ready to pass them on to others? Because there is a secret magic hidden in them, that you are already discovering from within you, from within your soul.
What you have been drawing is The Matrix of Andromeda Galaxy, sent through you in Frequencies and sounds, your bodies are filled with its colorful waves ! In peace you can penetrate them, holding in you the sounds of the universe.
The higher you vibrate, the higher they will become, and the higher they will vibrate in you.
The frequencies and sounds are generated by a very specific intertwined connection to higher realms in the new crystalline map Grid.
The distribution is done in a very subtle way, each sound creates frequencies that are specific to the shapes, the lines and nodes they are connected to.
It definitely creates new sounds new shapes new lines and nodes... if you see the picture I draw in you you will understand that it is done in the love you are made of which is deeply connected to Source ´s Energy and flow.
There is much more to learn from it, human nature cannot access to now.. with efforts and guidance this would probably happen ! »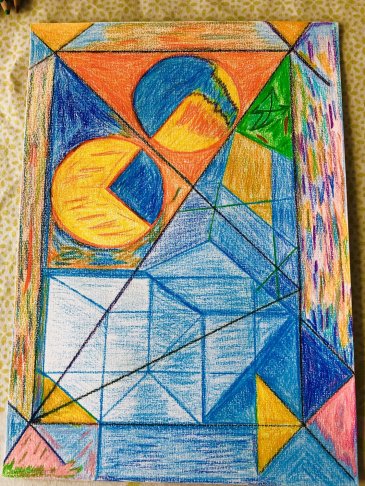 Last edited: