Healing Facilitator & Consciousness Guide
Staff member
Administrator
Creator of transients.info & The Roundtable
Jul 19, 2016
5,353
13,777
Feel free to share photos of your latest food creations from home. The aim of this thread is to visually show our creations. This is really about the look of how we present our recipe, rather than how to make it. But it's also about being clever and creative with how we take the photo of our meal.
You can share whatever you want, as this is about the presentation of what you think looks good. I think it's important not to judge if you are a meat eater, or not. Personally, when I smell most meat cooking, I have a natural reaction where I start to feel sick, and I very much dislike certain smells of meat now, because of how long I have been a full vegetarian, but when I see a photo of a meal that contains meat, I am fine with that and respect everyone's choices.
Some people do have to eat meat, otherwise their health is impacted—we are all different and unique and sometimes it's really good for us to come together and accept each other, no matter what diet we may have.
If you would like the recipe of what a person shares, feel free to ask for it on this thread.
Over on the board,
Health, Somatics & Psychological Well-being
, Linda has a thread up about sharing healthy recipes which is a bit different, as this is more about the look, in a creative sense.
Here is home made Gado-gado on wild rice, from a few nights ago — it was very tasty! (Gado-gado, also known as lotek, is an Indonesian salad of slightly boiled, blanched or steamed vegetables and hard-boiled eggs, fried tofu and tempeh, and lontong, served with a peanut sauce dressing)
Also from a night or two ago, here are a few vegetable dumplings with my favorite dipping sauce (white vinegar, chili and white sugar) with some fried mushrooms and potatoes on the side.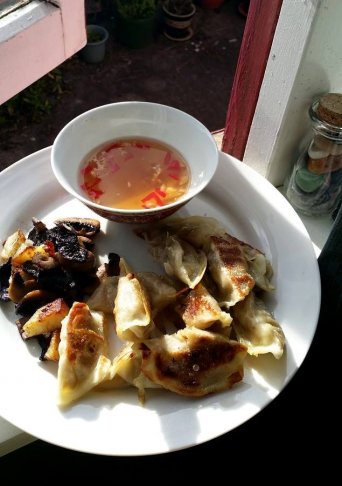 Last edited: