Sweetheart of the Rodeo
Staff member
Global Moderator
Administrator
Board Moderator
Jul 20, 2016
6,461
19,906
I knew about the art of ceramic repair, which produces the most gorgeous results. To my surprise, I discovered Sashiko, which is the Japanese art of clothing repair. I take pretty good care of my clothes, and they last a long time, but tears still happen. I have one t-shirt that is very old, but so soft and comfortable. I wanted a way for it to look nice - and voila. I'll post my photo at the end. I used what I had, which was tightly woven fabric and regular needle and thread. It definitely looks like it is from kindergarten. However, I find hand sewing very calming, and I'm happy with my result. New ideas are blooming in my head right now.
Found a few nice sites with good info.
Learn how to sashiko stitch with this step-by-step guide to Sashiko stitching includes thread, needles, and transferring your pattern.
createwhimsy.com
Learn to stitch Sashiko hand embroidery, the beautiful Japanese embroidery . Decorate your clothes with the timeless and elegant Sashiko embroidery designs
sewguide.com
Examples of patterns.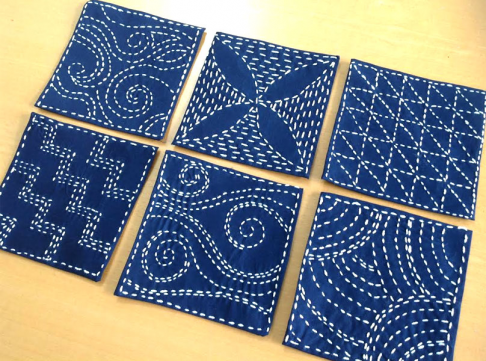 My first sashiko.