Collected Consciousness
Staff member
RT Supporter
Global Moderator
Board Moderator
I'd like to have some fun this week. What I propose is that we join in do our healing together however we like. We've discussed all kings of methods eg sending out healing waves from our hands or hearts, sitting in a healing bubble all together, cleaning in all kinds of funny and sometimes vigorous ways, etc, etc. If you look back at some of the older weekly posts you can check them out under the "Events" board of the Home page.
What I propose next is that we do an experiment, just for the fun of it. Nobody is keeping track. We get no grades. Hopefully we do get a smile and a warm feeling of 'Hey I did something different today" out of it. Maybe a chuckle. I usually get a chuckle along with a feeling of wonder that, 'Hey we humans can do this even though I'd spent most of life having no idea about any of this'. To me, this is all one big, beautiful experiment. I never know what will come next and that's the part I like best
The experiment is to try to 'see' who is at our healing campfire circle in the meadow with us. We've done this before, sort of... a long time ago. It was kind of funny how we saw and described each other at times and it was interesting to try to guess who was who based on who said they'd show up. I believe
Sinera
was a squirrel
If you like, post your observations below.
If you do show up this week, it will be particularly helpful for you to post below so that we know who to expect. We typically do this anyway each week.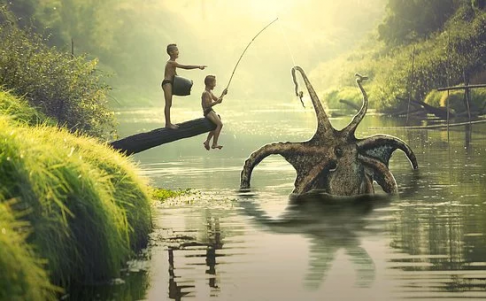 Please note, I say try to 'see' who is at our circle because language requires me to use a verb here. There are a quite a few verbs to choose from. You might actually hear someone, feel them or simply sense a presence. Somebody might smell or even taste distinct too. We are talking about an expanded sense of what senses are available to us. If you do 'see' someone they may not look at all like we expect a human to look like. Whatever is there for you, this is a chance to 'say hello' to it and, if you like, share about it below

. The invitation is open!
Eek! That was so cool!
This week we welcome the following new Roundtable members:
Jackie822
Bitofboho
,
Dhbwne
theemail4mike
,
Calvin6161
,
Maria
,
jen1010
,
Joylaine
and
Deanna Kirby
. No experience nor 'special abilities' required. A sense of wonder and fun recommended.
There are lots of instructions below, or you can, like me, just ' jump' in sometime this weekend. It's all part of the mix.
And a special invitation to some of our quasi or wannabe 'regulars'
CrystalSong
and
Kiera
. Would love to have you there again.
Session Time
The time for the session is the same each week based on 8am Sunday, New Zealand time, unless there is a daylight saving change in you area (if so, just go by 8am Auckland, New Zealand time). This time is calculated to make the sessions accessible to as many as possible.
USA: Saturday: 3 pm EDT, 1 PM MDT, 2 pm CDT, 12 pm PDT
Europe: France (Paris), Switzerland, Sweden, Saturday: 9 pm
UK: England (London), Ireland (Dublin), Saturday: 8 pm
Russia: (Moscow), Saturday: 10 pm
South Africa: (Johannesburg), Saturday: 9 pm
Australia: (Sydney, AEST) Sunday: 6 am, (Perth) Sunday, 3 am
About these Sessions
For those new to these sessions, or if you simply want to be reminded on how to connect in and what methods you can use to send healing, see
this article here
.
The purpose of these weekly sessions is to send healing to each participant, which can be accomplished by focusing on individuals or the group, depending on what methods you chose to use. You are always free to set secondary intentions around focusing on world events that may need some helping energy — on other levels our group also works in a multi-dimensional sense. Sometimes we get healing requests within the replies here, so do check back here just before the sessions begins.
Let us know if you are joining by responding below or or contacting us through the Contact Forum Admin link
here
. The session is 20-30 minutes and you can send, and or receive healing; it is up to you. Anyone can heal. No training is required to participate.
Please provide any feedback on here if you receive any and feel comfortable sharing.
The place we have chosen to visualize when first connecting in, and to anchor that connection, is a forest clearing. Think of an opening inside a forest where there is a large crystal in the center that we gather around. The ground could have moss or grass, perhaps even dirt or another surface that appears to you. There may be the sound of a waterfall nearby which could result in a river that you could see, or not. You could start off here and then go off to another place of your choosing to send and/or receive healing. Some people find themselves being taken on a journey where they are shown other things during a session, but we all experience this in our own unique ways.
You can find further information about these sessions through the link,
Remote Group Healing
, via the INFO link in the menu here on The Roundtable.