QHHT Hypnotherapist, Energy Healer, SpiritualCoach
Staff member
Administrator
Creator of transients.info & The Roundtable
Jul 19, 2016
7,421
15,584
Introduction
I'm hosting this session on behalf of Lila. Note I've updated the times based on daylight saving changes.
We have a total lunar eclipse (blood moon) in 3 days and four hours time, in fact, that will take place a few hours after our session. During it, you may notice the difference in energies, which includes those of you doing the session out of time.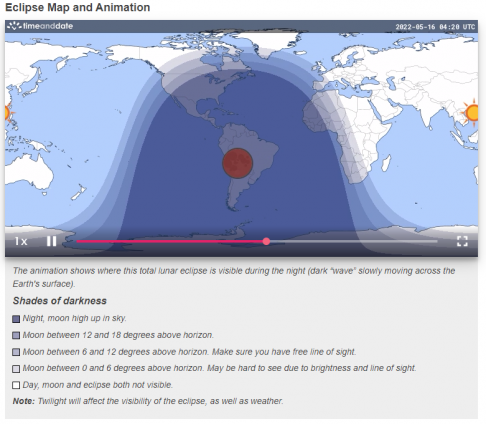 Details of the eclipse from
https://www.timeanddate.com/eclipse/lunar/2022-may-16
(click the link to find that video from the screenshot above)
So, the state of the world is pretty chaotic when you focus in on the 'news'. But when you focus in on yourself and what's around you, things can usually be peaceful and just fine, with the exception of the circumstances of your loved ones, and others you care for, and how you react to those.
For some of us we're not so interested in on the past, or on things that don't really serve us in the sense of keeping our existence at a higher and happier vibration. There's definitely a change of focus globally with folk rising in vibration as part of the shift in consciousness, which is happening a bit faster than what we've been used to in the past decade or so since things started to ramp up because of the galactic alignment which peaked in 1998.
Session Focus
Before I jump into our secondary intention, please include the mother of Lila's friend in our session today, who's dying. Also, if you could include my mother in the session, who's been at the ER/A&E twice in the past two days because of a health issue, that would be great (at this stage it may be a minor thing that will pass, but without a diagnosis yet, it could be quite serious).
As always, we're sending and receiving healing for those participating in the session, which you can find instructions on further down in terms of how it all works. And remember, you can do the session out of time, which means within 24 hours of the set time and it will be just as effective.
But for our second intention and focus, see if this resonates and if so, jump into it during the session (which is 20-30 minutes):
Alongside our circle, with the crystal in the center, you begin to see a river forming, which widens with translucent flowing water which may look more like energy than a liquid.​
​
Move closer to it. You might notice others in our group moving closer.​
​
This river can help you move beyond any stale or stuck states you might be in, or, if you're doing just fine, this river will continue to support that and help you get even further along your path. After you step, shift, float, glide or simply change your focus to appear in the river, you will notice it not only safely supporting you as the movement begins, but it will eventually lead to lifting your vibration even higher.​
​
Make your way to the river which you can lay on, sit, or submerge yourself in. It's taking you somewhere important. Let it move you in another direction, eventually to reach a destination which may be a completely different realm and space to where you were. There, you may meet your highest aspect of self, a guide, or possibly even the records of everything (if that's the case, open a book to a random page, or turn on a monitor or screen that may show you some helpful info).​
​
Trust and see where it takes you, but as it takes you there, just remember it's keeping you in the moment, and raising your vibration to help you go beyond any limitations and access things you might not have been aware of. Sense you there.​
​
​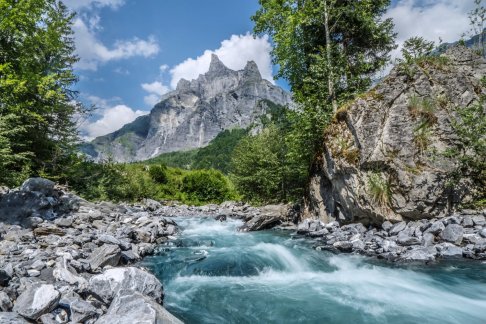 ​
Additional Info
We hope you you check in and perhaps join us. No experience or 'special abilities' required. A sense of wonder and fun recommended. If you're joining us for the first time this week your timing is great. We especially welcome new Roundtable members to our sessions. This week that group includes:
SoleilShea
Shaughnessy
JamesTes
PutlockerWebsiteton
Duanequeli
If the exact time in your area does not work for you, then just join when you can. Many of us have no problems connecting a few hours earlier or later but find somewhere in a 24-hour window works best. Some people have even set the intention to join in dream time.
Instructions are posted below. Let us know if you have any questions and welcome.
The time for the session is the same each week based on 8am Sunday, New Zealand time, unless there is a daylight saving change in you area (if so, just go by 8am Auckland, New Zealand time). This time is calculated to make the sessions accessible to as many as possible.
USA
: Saturday: 4 pm EDT, 2 PM MDT, 3 pm CDT, 1 pm PDT
Europe
: France (Paris), Switzerland, Sweden, Saturday: 10 pm
UK
: England (London), Ireland (Dublin), Saturday: 9 pm (thank you
June
for the reminder to make this change; I finally remembered

)
Russia
: (Moscow), Saturday: 11 pm
South Africa
: (Johannesburg), Saturday: 10 pm
Australia
: (Sydney, AEST) Sunday: 6 am, (Perth) Sunday, 4 am (remember, you can do the session out of time within 24 hours and it will work exactly the same.
About these Sessions
For those new to these sessions, or if you simply want to be reminded on how to connect in and what methods you can use to send healing, see
this article here
.
The purpose of these weekly sessions is to send healing to each participant, which can be accomplished by focusing on individuals or the group, depending on what methods you chose to use. You are always free to set secondary intentions around focusing on world events that may need some helping energy — on other levels our group also works in a multi-dimensional sense. Sometimes we get healing requests within the replies here, so do check back here just before the sessions begins.
Let us know if you are joining by responding below or or contacting us through the Contact Forum Admin link
here
. The session is 20-30 minutes and you can send, and or receive healing; it is up to you. Anyone can heal. No training is required to participate.
Please provide any feedback on here if you receive any and feel comfortable sharing.
The place we have chosen to visualize when first connecting in, and to anchor that connection, is a forest clearing. Think of an opening inside a forest where there is a large crystal in the center that we gather around. The ground could have moss or grass, perhaps even dirt or another surface that appears to you. There may be the sound of a waterfall nearby which could result in a river that you could see, or not. You could start off here and then go off to another place of your choosing to send and/or receive healing. Some people find themselves being taken on a journey where they are shown other things during a session, but we all experience this in our own unique ways.
You can find further information about these sessions through the link,
Remote Group Healing
, via the INFO link in the menu here on The Roundtable.