Healing Facilitator & Consciousness Guide
Staff member
Administrator
Creator of transients.info & The Roundtable
Jul 19, 2016
5,404
13,876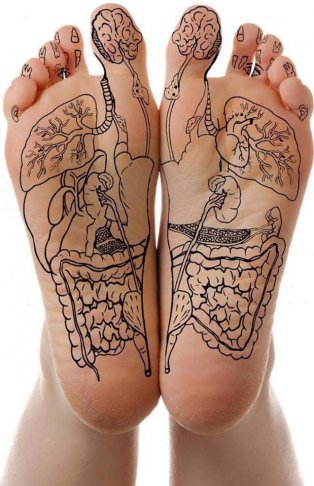 ​
I came across the above picture the other day which visually portrays the purpose behind reflexology. But what is reflexology?
Brent A. Bauer, M.D., explains it:
"Reflexology is the application of pressure to areas on the feet (or the hands). Reflexology is generally relaxing and may help alleviate stress.​
​
The theory behind reflexology is that areas of the foot correspond to organs and systems of the body. Pressure applied to the foot is believed to bring relaxation and healing to the corresponding area of the body.​
​
Reflexologists use foot charts to guide them as they apply pressure to specific areas. Reflexology is sometimes combined with other hands-on therapies and may be offered by chiropractors and physical therapists, among others.​
​
Several studies indicate that reflexology may reduce pain and psychological symptoms, such as stress and anxiety, and enhance relaxation and sleep. Given that reflexology is also low risk, it can be a reasonable option if you're seeking relaxation and stress relief." (
Source
)​
I find it interesting how wikipedia defines certain things. This is what
it says
about reflexology. "
Reflexology, also known as zone therapy, is an alternative medicine involving application of pressure to the feet and hands with specific thumb, finger, and hand techniques without the use of oil or lotion. It is based on a pseudoscientific system of zones and reflex areas that purportedly reflect an image of the body on the feet and hands, with the premise that such work effects a physical change to the body
. There is no convincing evidence that reflexology is effective for any medical condition"
It's funny that they say there is no convincing evidence, yet there are people practicing reflexology, having spent a lot of time on their education around it, are have practices setup around the world helping people — obviously it works, and obviously it can help with certain medical conditions. (I'm still annoyed at Wikipedia for not allowing Dolores Cannon to have an entry, simply because she self published her books)
Anyway, is anyone out there a reflexologist? Have any of you got some experiences to share from having a session with one?