Healing Facilitator & Consciousness Guide
Staff member
Administrator
Creator of transients.info & The Roundtable
Jul 19, 2016
5,719
14,294
I came across a surprising (not for some) article on stuff. It talks about the situation with leaking—and soon to be released if there's a storm—radioactive material in a flying saucer shaped concrete bunker on Runit Island in the Pacific.
That toxic stuff was transported their by American military after the tests were concluded. One specific test is discussed, simply because a mistake was made with the estimation of how powerful it would be, and this likely ended up ending the lives of humans in the area, as well as animals and so on.
The main point of the article is to explain that this bunker is not being maintained and is deteriorating, so is likely already leaking radiation into the Pacific, but one good storm or tsunami could easily lead to the structure being compromised, and the radiation polluting the Pacific.
I'm going to quote some parts of the article below.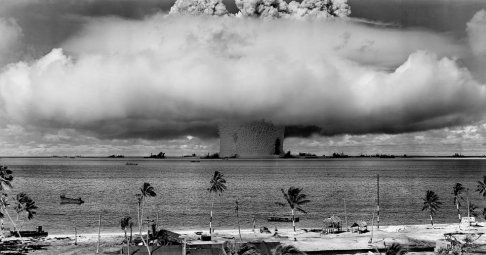 ​
"…The explosion, the US government's first weaponised hydrogen bomb, was 1000 times more powerful than the "Little Boy" atomic bomb blast that flattened Hiroshima - and a complete miscalculation. 'Scientists had underestimated the size of what became known as the "Castle Bravo" test. Radioactive ash dropped more than 18,129 square kilometres from the bomb site, caking the nearby inhabited islands. "Within hours, the atoll was covered with a fine, white, powder-like substance," the Marshall Islands health minister would later testify, according to the Atomic Heritage Foundation. "No one knew it was radioactive fallout.
The children played in the 'snow.' They ate it."
"
(…)
"International pressure finally halted the bombing, but the damage was done - and continues to this day."
(…)
"Enewetak Atoll was subjected to repeated blasts during the testing, and inhabitants were forced to relocate before the explosions began. Beginning in 1977, 4000 US servicemen began collecting an estimated 73,000 cubic meters of tainted surface soil across the islands, according to the Marshall Islands' government."
(…)
"In 1983, the Marshall Islands signed a compact of free association with the US, granting the island nation the right to govern itself.
But the deal also settled "all claims, past, present and future" tied to the nuclear testing,
and left the dome in the care of the island government. According to a 2017 report by the Australian Broadcasting Corporation, among the fallout material was plutonium-239, an isotope that is one of the world's most toxic substances, and one with a
radioactivehalf-life of 24,100 years
."
(…)
""That dome is the connection between the nuclear age and the climate change age," climate change activist Alson Kelen told the Australian broadcaster. Cracks reportedly have started to appear in the dome. According to the
Guardian
, a 2013 report by the Energy Department admitted radioactive material may have already begun to leak from the dome,…" (
Source
)
It's a bit of a worry. More radiation for the Pacific!