Mystic Master Healer, Astral Explorer & Author
Staff member
RT Supporter
Board Moderator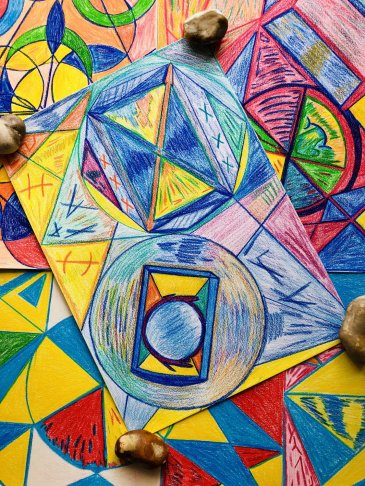 I have been working on this artwork, my new Wave Tree for many days now. It is related to the planet I have been in during my latest QHHT with Tracy Moore In Blue Springs State Park in Florida, back on May 2019.
This was a big step to understand from where I first came into life before incarnating in other stars and planets of many star systems. The soul is like a deep ocean.. When you dive into its magic, you learn more about your current life purpose through this journey of inner growth.
So I was a light soul living in a Six Pointed Star Blue Planet. I was mostly energetic being and was a portals' creator. In me were codes that no one would have access to, to open new gates and also to navigate into the planet, including those I use to enter my home, which was a huge home facing three 4 shaped pyramids like those in Ancient Egypt. My home was just in front of the great one, made of the same materials and energy, and from there I could work with a super complex web, which was made of channels where a blue liquid flows to maintain the communication into the whole planet and outside of it... I used it to also shield the planet during an Extraterrestrial attack.
I will post more about my QHHT as there are many things that relate to the manipulations that humans have been in from some dark entities for many years...
Yesterday I finally received the message of the Wave Tree ... so here we are
Portals To Inner worlds
Drawing the light that is within your soul and heart... The process of reinventing yourself from a different dimension, you have been shown, and where your soul have been blessed with magical experiences.
Entering inner worlds is a beautiful healing one can have, when the soul is urging for it so deeply.
You just need to walk that path and see beyond those multidimensional portals that are open to you, that you can open with your soul as part of who you are. Come in and see what they have in store for you ! Let your heart and soul guide your path.
The circles are holders of an inner journey where you have to find your limit, as you are your own master and guide, you know when to stop the wave that is trying to keep hold on you.
In the circle you are the master. and as you enter in, a 4 shaped pyramid shows you the way to the land of mysteries where only eternity prevails. You keep healing surrounded by an energy flowing from inside your heart.
Your heart is a 4 shaped pyramid surrounded by a circle of life experiences in many planes, where you learn to be who you have to become : a free soul shining like a star in the infinity of your blessing light.
Channeled by
."© 2019Henda Zaghouani. All rights reserved