Healing Facilitator & Consciousness Guide
Staff member
Administrator
Board Moderator
Creator of transients.info & The Roundtable
I want to share with you some of Krena's (our board moderator) recent crystal jewelry which she has made. Before I include some photos, here is a short introduction by Krena that she recently used for a local exhibit.
"I think the pleasure of adorning women is the main reason I create jewelry. I love to witness their obvious sense of empowerment when they give themselves the freedom to look and feel beautiful, as the style of the design with its facets of light enhance their natural allure and elegance.
This creative pleasure is paired with the positive nature of the gemstones that are said to impart metaphysical results from healing to protection. With each necklace, I include an explanation of the stones and their effects, offered by various experts in the field. Mostly, I feel like a matchmaker of sorts. I fall in love with the gemstones, acquire them when they "speak" to me, and then work out their form of partnership. This is about passion.
I came to jewelry making after being trained as a writer (I am an author of
Witness to Illness: Strategies for Caregiving and Coping
, playwright of
High Tea at the Ritz
and an editor) and as a fine art photographer. It was partly an accident and maybe destiny as I learned how to create jewelry in Sedona, Arizona with friends twenty years ago."
​
Krena maintains a blog
here
which displays some of her newer work, which may or may not be listed on her official site
here
, that is really more of an archive of her photography and jewelry that's been sold.
Here is a green kyanite stick and onyx necklace made by Krena.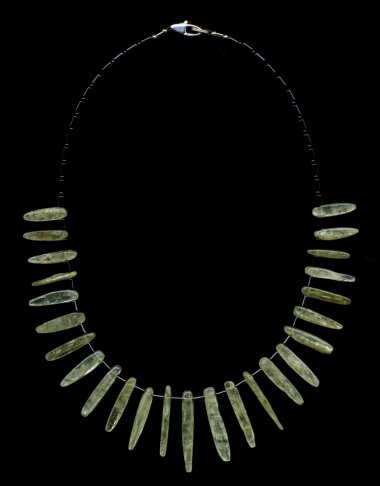 ​
Below is a blue kyanite necklace, created for the purpose of giving away as a non-profit donation.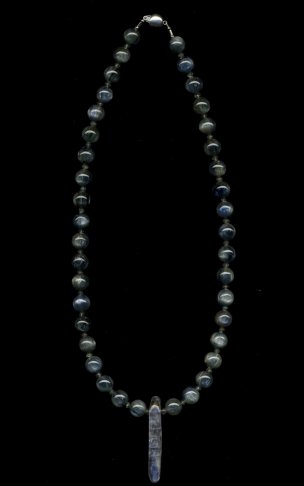 ​
The next one is a long tourmalinated quartz crystal and onyx.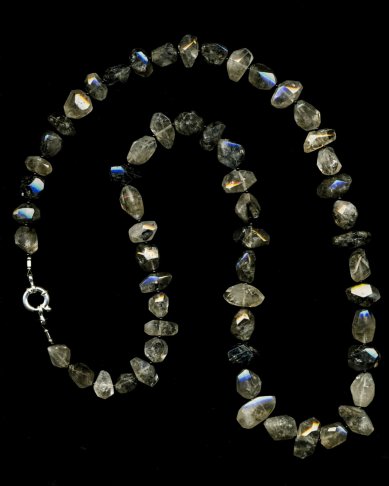 ​
While she has a lot that she has posted on her blog, here is the final photo of her work that I will share: three jasper rectangular stones on rubber necklaces.
​
Below is something Krena wrote to provide some background around her most recent work, but also why she does what she does in terms of using crystals with jewelry.
"My most recent necklaces are mostly a collection of onyx and quartz, and right now, I am working with kyanite, which will be paired with matte onyx. Or labradorite, a surprise combination born from the chaos of spreading my strands out and searching for the right design. I don't usually create "collections," necklaces that look they have a color scheme. Usually, I actually create with many different stones, and
they
dictate who wants to get made: a kind of psychic direction I always follow, as they have proved to me that they know better (just about always, they get sold within 24 hours). However, the art center asked me to make sure my work looks cohesive. I thought, hmm, good idea.
Design: well, as woo-woo as I am with the stones, I am also very strongly influenced by allowing the stones to speak for -- and show themselves. This translates into a kind of simplicity that features them. I tend to create dramatic necklaces, meaning long necklaces that have definite presence. Why? Most necklaces for women are delicate. I am a contrarian and prefer them to be bold, and it is also my style to mostly wear black and my necklaces -- which are mostly long -- so they get noticed as wearable art.
All of those stones I consider healing or protective or both. In this collection, many are "black and white" -- crystal and/or onyx -- an undisclosed statement about balance and duality. I personally am having a rough time with duality right now, as I feel the amount of suffering of all kinds on this planet is too much, too outrageous, too painful. I have read the explanations of the purpose of duality, but that does not seem quite fitting anymore, as I am feeling "enough is enough." I am sure you have guessed that I am a sensitive creature. I know that this has something to do with this style choice, but I have not entirely worked that out. I know it is an undercurrent. Of course, I am also a fan and creator of black and white photography so that was also a pull.
I discovered kyanite in Sedona, Arizona where I instantly fell in love with raw, uncut stones. Later, I learned how well they clear chakras. They are so very cool to the touch so there is something so very pleasing about their properties that, in fact, kind of announce they are special without much explanation.
My clients mostly come to me during the year to see what is new, and I have open house events during the holidays. The women have come to love my individual explanations (a 4 x 6 card) filled with information about the stones (their size, sometimes how I found them, sometimes scientific tidbits about them), and I offer metaphysical uses that are a combination of experience and experts' opinions. If they ask for more, I usually tell them that if they are drawn to a necklace, it is usually for a reason. And whatever they choose, whatever stone, will forge a relationship with them and work on their needs."​