Metaphysical & Spiritual Teacher
I think there is so much fuss over the issue of 5G mobile networks and so much fear and anxiety about the deployment of the antennas being installed, that it is worth reviewing the impact and purpose of this technology delivered decades ago by the RIC to the CS and from them to the mass of humanity. Let's see how and why.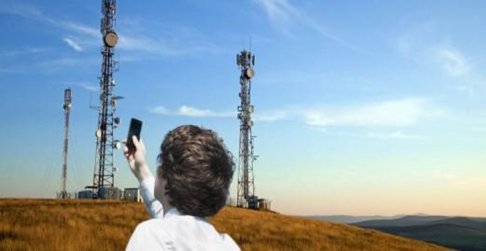 ​
Isolate ourselves from each other
One of the purposes of the RIC has always been to isolate the individual from others, since "union makes force," as the saying goes, and therefore it was necessary to find a quick way to get each human being in a "bubble" and "lost" in a world where there was no need to speak to anyone or do anything with anyone in person. The only way to do it was for everyone to have a device to stay connected, plugged in and virtually isolated from the rest, since for many friends you may have on Facebook and many messages that we exchange through social networks, there is really no real "human" connection or deep interaction between people through digital media, which is what they wanted to avoid, and it is obviously what they have achieved in practically the entire world in a high number of situations.
So they designed mobile technology as a test system for it, since it is a "simple" version of the communications technology that the RIC uses in its structures and society, and they gave it to us little by little, as we were learning to develop and implement these wireless communication models across the globe.
This way, at the end of the 70s and beginning of the 80s, the "first generation" mobile network was developed, since the "G" denotes the "generation" of technology and we are already on our way to the sixth (6G is starting already to be developed in China, while 5G is being installed worldwide). Each generation has some standards, technical capabilities and new characteristics that differentiate it from the previous one and it has different functions, both for the human being to accept it, and for the CS and RIC to better control us with them. Let's see them.
First generation (1G) mobile communication network
For the public the first automated and commercial mobile communication network was launched by NTT in Japan in 1979, followed by the launch of the Nordic Mobile Telephone (NMT) system in Denmark, Finland, Norway and Sweden in 1981. It offered only voice services and the technology was analog, with a data transmission rate ranging from 1 kbps to 2.4 kbps and a frequency of 800-900 MHz. It was really the beginning to being able to communicate with each other without a fixed line, but the bad voice communications and the lack of security in them quickly led to the development of a second generation.
Behind the scenes, the first generation mobile antennas make it easier for the RIC and CS to manipulate common reality, since these same antennas were used to emit distortion "waves" of the energy framework that humans use as raw material for the creation of reality.
That is to say, we have explained many times that we emit the reality that we see in the world from waves that our pineal gland projects at the "quantum," "energetic," "holographic" level. The content of these waves is what each one has programmed and inserted into their mental body and mental spheres, making each one really and literally project their own reality, and the sum of all creates the common reality, but the "base" for the wave is the energy of the mental plane in the area where you are. So, on a distorted "mind base" manipulated by the emission of electromagnetic waves from thousands of 1G antennas spread around the world, it became much easier for us to imbue a lot of distortion in what we projected, and that caused the society and the world to became more chaotic and easier to manipulate, since not only was what they wanted people to have programmed into our mental body inserted through the collective unconscious, but also, now the substrate was manipulated in which our "waves" were projected and with which the common reality was formed.
So, "killing two birds with one stone," the RIC and CS gradually began to give us the freedom to call whoever we wanted whenever we wanted, while making our reality increasingly chaotic and more distorted the more 1G antennas were being installed in more and more parts of the planet.
On the other hand, the electromagnetic emission of the 1G antennas at 800-900 Hz points directly towards the pineal gland, to decrease its power and emission capacity, a frequency they had chosen on purpose so that at the mental level there would be all the possible distortion in every human being and the personal and common reality were as altered as possible, greatly hindering a projection of clean reality on an individual level, plus the problems that an altered "mental" pineal causes in the etheric part of the gland and this in turn in the physical part of it (sleep disturbance, hormone problems, etc.).
Second Generation (2G) mobile communication network
To the public, the GSM technology was the first to provide digital voice and data, as well as international roaming, allowing human beings to go from one place to another and stay connected. It was implemented in the 1980s with digital technology, and at a speed of 14kbps at 64 Kbps in a frequency band of 850 - 1900 MHz (for the GSM) and 825 - 849 MHz (for the American CDMA standard).
This new generation of mobiles provided us with digital voice services, SMS, international roaming, the possibility of establishing conferences, and a lot of "extras" such as call waiting, call hold, call transfer, call blocking, the identification number of who is calling you, etc. That is to say, it began to give us more and more services and "things" with which to entertain us and increasing the penetration of mobile technology in society.
I worked for many years as a telecommunications engineer, having carried the first mobile phones that existed that weighed almost a kilo and were about 25 cm high, tied to a belt (because they weighed a lot), and I remember the first time I sent a SMS for work issues, being a revolution for all of us that "it" could be done.
Behind the scenes, 2G mobile networks served to prop up the transmission of information from humanity to the RIC and CS, since they began to spy on us through them at that time, so they gave us this new technological generation to start controlling people individually. Of course, 2G antennas did the same job as 1G antennas to emit distortion waves to the etheric and mental fabric of the area they covered, and they continued to interfere and distort the creation of reality for all people within their range of action.
In addition, they began to be used to "attack" individuals, since the electromagnetic flow of an antenna from the CS and RIC control systems to a person can be adapted and this way, you receive "psychic attacks" not from entities, but from the technological framework that you have around you.
How can you attack a person from a fixed mobile antenna?
Because each person has a unique and individual frequency that is slightly different from the vibration frequency of the rest of the human beings on the planet; when you want to carry out a psychic attack on someone in particular and knowing their location, the small emitters that the mobile antennas have imbued in them is programmed (by the RIC) so that, the one to which the person's mobile is connected, which indicates the closest antenna to where you are physically, begins to emit a pulse on that single frequency you identify to, which then alters and can cause damage only and exclusively to the person whose frequency one of the antenna components has been tuned to. This way no one else is affected by that pulse or emission except that human being that resonates directly with the emitted electromagnetic wave.
Since clustered antennas in many cases emit Omni directionally, within a range of several hundred meters, it does not matter where you are in your coverage area and the electromagnetic field focused on you impacts you while you are under its coverage. Then, if you move out of range of that antenna (and still carry your mobile), they will know that you have now connected to another antenna five streets away, and it will be that other antenna that then activates the pulse against you while you are under its coverage radius.
How do they know the frequency of a person?
So the interesting question is how do they know the unique frequency that identifies a human being? When we were born, if you remember, we all had blood drawn in the hospital, and a database of all the people born is maintained in almost the entire world. The RIC's access to this data on a routine basis and the creation of a unique profile for each human being in its databases mean that, thanks to the analysis of that drop of blood drawn at birth, they already have the frequency data of each person from the first months of life. Then, as throughout life a person can vary this frequency for multiple reasons, it is updated with new blood tests that we are doing throughout life.
Impact of 2G antennas on the energy system
At the level of impact on the energy system the frequencies of 2G have a lot of penetration into the mental body, so, in addition to distorting the pineal, which they continue to do, they also alter the psychic and cognitive part of the human being, mainly their mental structure, which includes the brain at a physical-energetic and etheric level.
Generation 2.5
At the public level this new "semi-generation" facilitated the introduction of the packet network to provide high-speed data transfer and internet more or less between 2000 and 2003, when the GPRS and EDGE standards were introduced (enhanced data in GSM). The emission frequency is 850 -1900 MHz and the speed is 115 kbps (GPRS) / 384 kbps (EDGE). The new 2.5 mobiles gave us the possibility to improve the functionalities for speaking, multimedia, information based on entertainment websites that you could already access, WAP and MMS support (multimedia messages from years ago), SMS game phones, search and information directories, email access, video conferencing, etc.
Since mobile penetration in society had already grown exponentially in the prior decade, and many millions of people were already giving more importance to mobile communications and entertainment than direct human relations, the RIC and CS saw that it was really an issue that needed to be further explored and making everyone hooked on them. It was at this point that it was decided to promote mobile technology so that there was not a single human being on the planet that did not have one.
At the level of energy impact on humans, with the arrival of 2.5G antennas there were no major changes compared to what was previously installed, because the emission frequency was the same as for 2G networks, but, as there were many more antennas in all the terraces and buildings of all the cities in the world, it became much easier to manipulate the common reality of humanity and, above all, from this generation, to amplify energy bags or transport egregors from one point to another using the signal carrier that the antennas emit.
That is, to carry our voice, a "carrier" wave is used that goes "below" the voice signal, so using this same "carrier", egregors began to move from one point to another, fear energies began to amplify at a global level, to manipulate the local, regional collective unconscious and the areas where those antennas were emitting, etc. What they have done a little now with the energy of fear for the covid-19, since all the mobile antennas installed have been used to amplify the anxiety, panic, stress, etc., of the population. As we all have many antennas around us, it is impossible to get away from these electromagnetic fields that carry "panic" imbued and amplified and that, when impacting our energy system amplify the particles and emotions of fear, panic or stress that we have in ourselves. Since it is almost impossible that there is not someone on the planet that does not have some fear, or stress or anxiety in itself, it is very difficult that they do not alter you without you noticing and we are constantly being manipulated by the waves that we receive from all possible directions 24 hours a day, seven days a week.
At the moment we leave it here to not take too long and that you can review all this calmly and in the following article we continue with 3G, 4G and 5G and what is coming in the future with 6G.
A hug,
David Topí
The article above has been translated from Spanish to English by Carl. Minor editorial changes made by Laron. David has given transients.info direct permission to share his articles in this manner.

This work is licensed under a Attribution-NonCommercial-NoDerivs 3.0 Unported (
CC BY-NC-ND 3.0
). You're allowed to share this article for non-commercial purposes, but you must not edit or modify the contents. You must include all links and images, as well as provide appropriate credit — which includes a link leading directly back to this article at the top of your re-post. You must also include this licence information.
About the Author
David Topi is an engineer, multifaceted writer, trainer and therapist. One of his main areas of focus is educating and helping people through spiritual and personal processes. He is an energy healer and uses the "Akashic" healing technique. He is trained in metaphysics, alternative methods, inherent spiritual abilities and in personal deployment systems that allow humans to express their maximum potential and find answers for their questions. Back in 2013 he created EMEDT, Metaphysics and Transpersonal Deployment School, to provide a framework, organised and structured to the training he teaches. The website for David Topi's Spanish based Metaphysics and Transpersonal Deployment School can be found here,
http://emedt.org
. David Topi's home page can be found here,
http://www.davidtopi.com
(Spanish).