Collected Consciousness
Staff member
RT Supporter
Board Moderator
Aug 15, 2016
4,177
12,137
For the psychically sensitive, or even those with a "slant" which changes their perception from bog standard to.... name your flavour..... natural edifices, rocks, trees, cliffs can all take on the appearance of Faces, human forms, or something that reminds you of yourself as you are in physical form.
Of course, there are many that have been deliberately carved, or sculpted, but I am referring only to those found in Nature, that have not been embellished by anything but erosion, wind and water.
I personally had this experience many years ago when visiting a part of natural New Zealand (deep South) in the moss-banked, cool, temperate, wooded, river environment. It was 1982 and I had a polaroid camera. Remember those? The original point and click, to get an image, any image, on a piece of sensitive photo film. But due to my lack of photographic prowess, even that simple action of pointing and clicking did not work. Instead I got a corrupted polaroid with part river, and about 13 faces in the rock. I guess this was one of the "hits" given to me on my evolutionary timeline, to shake me up, and wake me up. I kept it for these many years, and I have started a painting that I must finish, because it spoke to me on such a deep level.
Has anyone else had this experience in Nature?
Here are some other examples I found on the internet: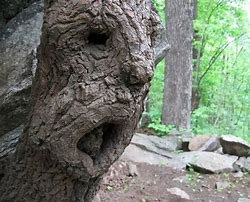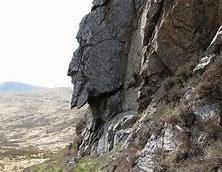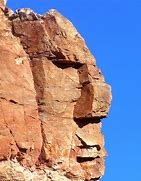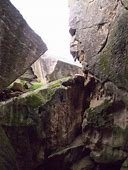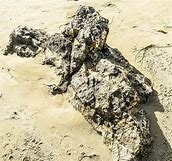 (on the last one, on the sandy beach, enlarge the picture and you may be able to see at least two small faces. I saw one on the protruding rock top left, and one near the top centre of the pic).
I hope this collection of images doesn't give you all the willies at night. I rather find it wonderful and curious, than scary. It brings up the question of how much our holographic world can contain, and the impetus behind the formations.
Enjoy!