Frequency Modulator
Staff member
RT Supporter
Global Moderator
Board Moderator
Summary:
It seems like the end of the world is finally coming to pass. As you sense the dark figure announcing its demise moving across the light of projected reality, will you choose to sleep through it? Will you rather succumb to the inevitability of change? To do so is not to opt out, but to recalibrate to life's modulated stream of energy. Feel it rise through you and take expression. What you're witnessing bids you to swim in the lush glow of your own metamorphosis.
Death — Page of Rods — The Star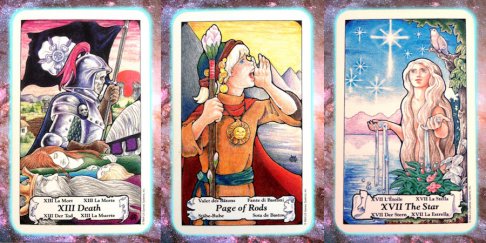 FOUNDATION: Death
You carry the herald of change. Are you regarded with fear? What you have to say is not necessarily bad news, though it may be about the end of the world, to some ears. In fact, it is the end of an illusion that you make known. So go forward with the solemnity that's due such a task. The sleeping masses will thank you, eventually. Once they waken from their dream, they will become aware of the truth you bear. Move on, not lingering overlong in any one place, not letting the shadow you cast to burn to deeply into the landscape. You may be blocking the light, from a certain perspective, and some may squawk about it. Relax and do what you have to do, knowing that any light you might be blocking could very well be from a projector, rather than the source of illumination itself. As your dark bearing moves across the field of view, then, consider the part you're playing in what is perceived all around. Are you not, as you move, part of the projection itself? Shed all the layers of interpretation from your bones and become rather the pure reflection that others may see themselves in you. To do so requires a complete abdication from your self-assured persona. Of course you've carefully built that up over time, but it's served its purpose and now you are called to transformation. You're moving through that now. If you feel disconnected, know that it's just a phase.
LODESTONE: Page of Rods
Amid the long-angled shadows that lay around your feet come glints of rising light. Flashes of inspiration draw your attention from the sleepy caverns from which you feel yourself emerging, or about to emerge. All the ideas that you've incubated are beginning to voice something new. Can you hardly contain yourself? It's important to let life surge through you when it carries the code assembled and coherent, packed into a surge of some true thing that needs to be expressed. Allow this flow to rise from your toes through your being, to be given the infusion of divine breath of the heart and form through your voice, your movement, your call. This is your moment, now, of emergence. With it comes an almost unmanageable exuberance. Let yourself feel this, for it is giving lifeforce to your newly redefined sense of self. How real it is is up to you to embrace. Of all the moments of your life that you've waited for, how many have you fully entered into with total surrender to the experience of transformation? At each, you have the opportunity for rebirth. Take it, now, when it comes, for the holy state of being in awe of life's regenerative dynamic is something you don't want to miss. Don't sit this one out, but also don't let the chaos of the moment draw you from your path. Let your voice blend with the modulating energies of a sentient world broadcasting change.
MOST OMWARD DIRECTION: The Star
Do you think you could allow yourself to be surprised by hope? Are you willing to let life find its way without getting in its way? You're part of life's movement and expression, so it's not likely that you can stand impervious and unmoving for long. Not without becoming enveloped by it in some way, at least. What rises over the horizon may now be indiscernible in shape and absolutes. It won't be that way for long. First, the light must take its form within your own inner visual field. It must be allowed to rise without interference, yet with a silent witness to the mystery it portends. You will be bathed in the liquid light of a new reality coming to be, or you will be lost in the undercurrent of change. Your experience is, in large part, up to you. What is happening now is discernible to eyes attuned to the finer frequencies of the subtle edges of incoming waves of light. In the phase shift, you cannot hold on to what you had in your grip. All things are preparing for fundamental modulation. Move gracefully into the liquidity of form and ideation and take in only the essence of what it is that you feel slipping from your hands. You do not lose it, for it becomes part of the substance that feeds incipient reality. Witness with reverence what rises now, that you may stand fully illumined as its significance becomes undeniable.
THIS WEEK'S CONTEMPLATION
"Like a Nero fiddling against the background of flames cuts Dread's silhouette, certain it will not fall like ashes in the inferno of castrated belief raging in Satanic pride. As the cry for making no sense drives you toward the point of absurdity creating nonsensically, Satan-dot connects to awareness-dot and suddenly you see what needs to be seen. Illumination dread cannot withstand; illusion crumbles and understanding emerges."
— An excerpt from
Opalescence: The Pleiadian Renegade Guide to Divinity
https://pleiadiantarot.com/weekly-messages/it-only-looks-like-the-end/