QHHT Hypnotherapist, Energy Healer, SpiritualCoach
Staff member
Administrator
Creator of transients.info & The Roundtable
Jul 19, 2016
6,957
15,063
Here's a COVID-19 vaccination report from the Israeli People's Committee showcasing the adverse reactions (including death) so far (up until June 8).
Of those reported, 13.9% of people have died, 17.2% have had gynecological issues (including miscarriages), 14% with neurological issues, 8.8% with pain, 8% with heart issues, and a whole lot more as you can see in the report.
Note that it's been said by doctors that only 1-10% of people report adverse reactions (including death) to the databases/systems like this. So the numbers are much, much higher.
https://4a1b9d73-4c47-4f3b-bb08-e515be8958ca.filesusr.com/ugd/3db409_6bfed49998cb4afa9eafb112e70ca847.pdf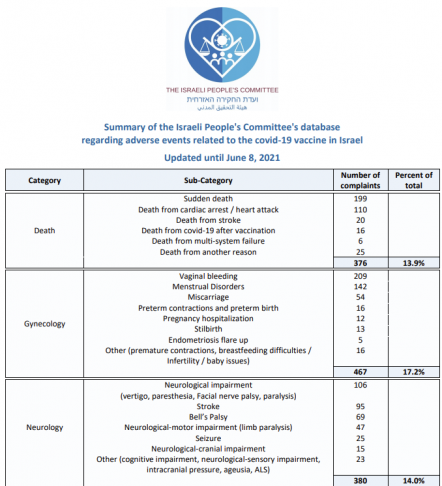 ​