Metaphysical & Spiritual Teacher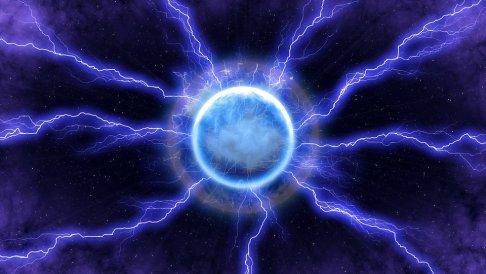 ​
Throughout all these months and articles, on more than one occasion we have mentioned that the information we are publishing is "consensual" from all the Higher Selves that have an active incarnation on the planet, which has received the approval of the different "planetary" forces and that Kumar himself considers "valid" to be transmitted, especially with regard to his system of life, management and forces that assist him.
Now, how do our Superior Selves agree and share the information? Do they talk to each other? Do they communicate telepathically? It is a bit of all the above but at a more complex level. Initially we will say that each Higher Self is in a different spatial location, and on a frequency and timeless level that differs or may differ from the rest.
This means that they are not all "confined" in a region of space-time in the network of Earth planes, and, in fact, many are even outside the solar system, since "space" location and energy band in which you find yourself do not matter so you can establish communication with other beings or Higher Selves with whom you share incarnation and are part of a system of life in a conscious species like the human.
How does it work then? It is done through a connection that all Higher Selves have with our "galactic logos" that is called Eur in Irdim, as we have said. Since all Higher Self possesses an energy part of the same galactic logos, although it has been created by other hierarchical levels or by other logos in other corners of the universe, if your active incarnations are within the "domains" of a galaxy, then all they "tune in" and connect with the logos of that galaxy to establish the parameters and receive the instructions of the life system in which you will manage "physical" or "energetic" incarnations, during the journey that your connection with that race or species lasts (for example, if the human race at some time leaves the Milky Way and settles in Andromeda, to say something, all our Higher Selves would have to establish communication and work and cooperation systems through the Andromeda galactic logos, then disconnecting from Eur for that).
Thus, through Eur, in a "special" zone within the different energy bands that exist in the galaxy (about 350 in total from the densest to the least), there are spaces reserved for this type of cooperation and communication systems. Therefore, all Higher Selves or beings that incarnate on Earth possess a "common field of information" on one of the upper levels of the Milky Way structure where they "dump" all the knowledge they receive from their personalities and souls, which are the ones inside the planet and experiencing physical life directly.
All the information that each human being "sends" to his Higher Self about what he perceives, feels, sees, hears, captures or learns throughout his life, his Higher Self transfers it to the common data field where all other Higher Selves can be aware of anything that happens anywhere on Earth where there is a human being who has lived, seen, heard or perceived something.
This type of communication and information sharing system does not violate the free will of anybody, since no details of the personality that lived them are added but only what was captured or learned, for that reason, no Higher Self knows anything about the life of another human being that is not his own incarnation, and, for that reason, only with special permits and with a "point to point" connection from a Higher Self to another one can obtain data from another person, which is what we do with Akashic Healing, for example, so that I, as a therapist, can know what energy, emotional, soul, physical, etc. problems my children or a friend who asks me for a healing have; I have to have the person's permission so that I can ask my Higher Self to connect with that person's Higher Self and thus obtain the concrete data of what we want to work or heal.
This communication mechanism serves all Higher Selves to agree on actions against Asimoss and Amoss and others, because they collect all the information on the planet about them, about their movements, their activities and plans, etc., and when there is no human being who can provide it because we do not know it or we are not in any place where we can have access to it, then the information is requested from the "forces of nature," Kumar himself, etc.
In this way, all available data on something is turned into this repository of information and communication field, is analyzed, and appropriate decisions are made, work strategies are created and then, as no Higher Self can violate the free will of its incarnate side, we are communicated in the form of an action plan with a request for us to execute it freely if we wish, because, otherwise, our Higher Selves cannot take the initiative to do something even if they have decided it themselves, since it is not them who "are in charge," so to speak, of the situation on the planet, but it is the human beings themselves at the level of soul and personality, who are responsible for what happens in it.
This means that many Higher Selves cannot execute the requests that we publish although they would like to do so, because they do not receive the permission and the request from their personalities, because, evidently, of the entire human population, only a very small part of you get to read some of the articles that we publish and you get to make the request of them. Even so, it is impressive that being only a few thousand people who are doing this work, we get the energy and awareness necessary so that the "global" request we make together with each article arrives with the necessary strength so that it can be a start-up and, consequently, we are moving in a very good direction with the processes you saw in the updated checklist a few days ago. Imagine what power humanity would have if we all made the requests and assumed control of our own reality, once we have become aware of what is happening, we have an action plan created by our Higher Selves and we work through them to carry them out.
Finally, how can changes be made on the planet, in its structure, in the energy planes, etc., if our Higher Selves are not "here"? How can they interact with the mental structure to dismantle an egregor or eliminate a blockage in my energy system if there is no direct channel or connection? The answer is that if it exists, all Higher Selves are connected to the avatar or avatars that are active at that time through the so-called golden cord or Hara line, which can extend millions of km, described in "linear distance," to the position of the Higher Self, but in addition all Higher Selves have their own "energy threads" connected from itself to the structure of the Earth, from where it can interact with it and, therefore, can move energies, manipulate, change, heal, eliminate, block, assist, etc., to the planet and all the forces of nature to keep the Earth in the best possible state. Therefore, and remembering what my guides told me: "It is important to have as many Higher Selves active and helping us, because it is a resource that we cannot miss."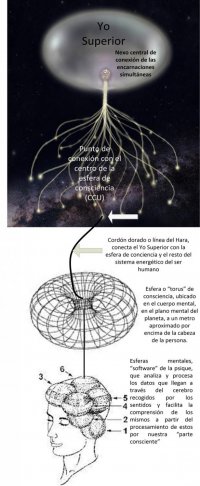 English translation: "Connection point with the center of the sphere of consciousness
Golden cord or Hara line, connects the Higher Self with consciousness sphere and the rest of the energy system of the human being
Sphere or torus of consciousness, located in the mental body of the planet, about one meter above the head of the person.
Mental spheres, "software" of the psyche, which analyzes and processes the data that comes through the brain collected by the senses and facilitates their understanding based on their processing by our "conscious part"".​
Of course, for this, it is necessary many "conscious" and "awake" personalities of the work that has to be done, because only consciousness alters energy and only energy can make changes in matter, hence the need to wake up so much awareness in people so that they understand how everything can be changed only by understanding what needs to be changed, becoming aware of it, executing the energy change protocols (through the Higher Self) and then seeing how "physical" reality gradually changes which, as you know, is nothing more than a reflection of the" energetic "reality.
A hug,
David Topí

​
The article above has been translated from Spanish to English by Carl. Minor editorial changes made by Laron. David has given transients.info direct permission to share his articles in this manner.

This work is licensed under a Attribution-NonCommercial-NoDerivs 3.0 Unported (
CC BY-NC-ND 3.0
). You're allowed to share this article for non-commercial purposes, but you must not edit or modify the contents. You must include all links and images, as well as provide appropriate credit — which includes a link leading directly back to this article at the top of your re-post. You must also include this licence information.
About the Author
David Topi is an engineer, multifaceted writer, trainer and therapist. One of his main areas of focus is educating and helping people through spiritual and personal processes. He is an energy healer and uses the "Akashic" healing technique. He is trained in metaphysics, alternative methods, inherent spiritual abilities and in personal deployment systems that allow humans to express their maximum potential and find answers for their questions. Back in 2013 he created EMEDT, Metaphysics and Transpersonal Deployment School, to provide a framework, organised and structured to the training he teaches. The website for David Topi's Spanish based Metaphysics and Transpersonal Deployment School can be found here,
http://emedt.org
. David Topi's home page can be found here,
http://www.davidtopi.com
(Spanish).
Last edited by a moderator: