QHHT Hypnotherapist, Energy Healer, SpiritualCoach
Staff member
Administrator
Creator of transients.info & The Roundtable
Jul 19, 2016
7,409
15,564
I just woke up to find that Facebook and other connected apps, including Instagram and Whatsapp, have gone down globally.
I have a client coming up so I'm quickly gathering information on the situation. Use this thread to post about what you've run into.
From my new group, Lighthouse at the Oasis, we're all talking about the situation on Telegram
here
. Telegram is also having issues. People are suggesting that we save our channel / group / chat history on Telegram in case that goes down too.
Note that I will be editing an updating this first post as I go, so for now I won't be creating new posts in this thread.
Facebook, Instagram, WhatsApp Down Worldwide After DNS Records Vanish; Employees Badges Reportedly Not Working​
"Facebook appears to have more than DNS issues, as NYT's Sheera Frenkel reports:​
"Was just on phone with someone who works for FB who described employees unable to enter buildings this morning to begin to evaluate extent of outage because their badges weren't working to access doors.​
​
Confirmed: The DNS records that tell systems how to find Facebook.com or Instagram.com got withdrawn this morning from the global routing tables. Can you imagine working at FB right now, when your email no longer works & all your internal FB-based tools fail?​
To be more precise (and Geek Factor 5) the BGP routes serving Facebook's authoritative DNS were withdrawn, rendering all Facebook domains inaccessible. That's per @DougMadory , who knows a few things about BGP/DNS.​
This may suggest Facebook's internal systems are down. DNS issues that affect the website don't hinder employees from entering buildings."​
Facebook and some of its apps go down simultaneously.​
"SAN FRANCISCO — Facebook and some of its apps, including Instagram and WhatsApp, appeared to go down at the same time on Monday for many users, who turned to Twitter and other social media platforms to lament the outage. The social network and its apps began displaying error messages before noon Eastern time, users reported. All of the company's family of apps — Facebook, Instagram, WhatsApp and Facebook Messenger — showed outage reports, according to the site
downdetector.com
, which monitors web traffic and site activity."​
​
Facebook plunged into chaos as employees 'CAN'T ACCESS' servers – or even their workspaces​
Facebook's offices are as much of a mess for employees as its social media platforms are for users, according to anonymous workers who've spoken to reporters in the midst of the apparent companywide breakdown. As the major Facebook outage dragged into hours, a Reddit poster claiming to be a member of the "
recovery/investigation team
"
wrote
the companywide snafu was indeed a "
global outage for all FB-related services/infra[structure]
" and explained that while repairs were underway, "
the people with physical access is [sic] separate from the people with knowledge of how to actually authenticate to the systems and people who know what to actually do, so there is now a logistical challenge with getting all that knowledge unified.
" Facebook's DNS [Domain Name Servers] were down due to what several commenters suggested was a configuration change that took effect right before the mega-crash.​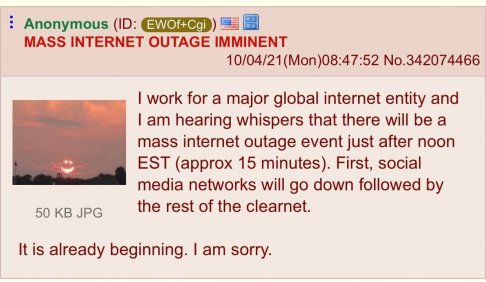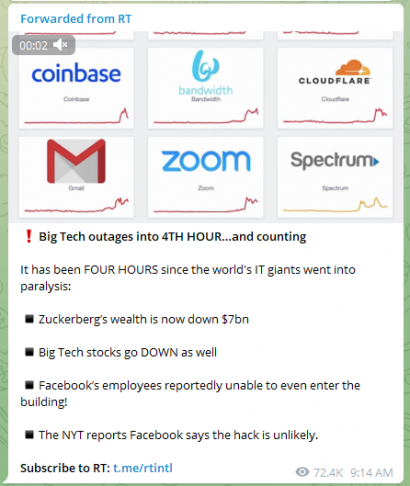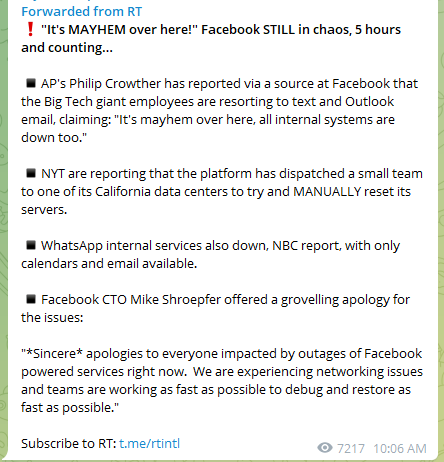 Last edited: