Mystic Master Healer, Astral Explorer & Author
Staff member
RT Supporter
Board Moderator
View attachment 681
Since I was a child I remember having weird experiences of astral projections and I was open to parallel worlds. I could not be conscious of it but I know that it happened to me and it explains the way I have been hiding this until one day I discovered that dormant gift in me. All my travels and projections have been involuntary and I am experiencing now voluntary astral projection and travels but just asking for it. That is what happened yesterday when I posted that astral projection in Stonehenge. I was feeling a deep call from there and I asked to go there and see what would happen. I had a magical journey and a message for September 2016 shift.
Many of those I know here had amazing experiences with me as they from time to time felt as if I were just beside them or passing near by their house, or just connected to them, or in their dreams coming for help. Those who will read and feel they are concerned will for sure know what I mean.

Through Healing Sessions
Healing distantly is an amazing way to astral travel. I feel the energy of the person and can see her I can feel if she sent a hug or if she is just relaxing, or sleeping. I remember the Reconnective Healing sessions I had with some of the transient folks and I am amazed by the way they report the energy was doing circles around their bodies as I directed it, being held by strong arms or feeling they were flying or floating. When a hug is sent to me I also can feel it and see it, if there is an animal totem beside the person I can see it, that what happened with Kelly Rose when sending her healing from the forest where I went for a walk that afternoon, I saw a falcon flying and I saw and felt the hug she sent me at the beginning of the session : I saw her hugging me and we were flying together with a feeling of a greatness and happiness never felt before. She also told me that she noticed that a falcon was flying over a tree at that moment. As she asked for the Owl Attunement, I prepared and sent it to her, and from that day she has been surrounded with birds.
Linda sent me this message few weeks ago: " I thought I saw you walking down our street again a few days ago. Then I realized that I don't know how to handle this. The idea of running out my front door and actually finding you there blows my mind. Yet, the feeling that it is you is very strong. I believe that there is a bubble of higher density that comes and goes around our house. Do you know how this works? Wouldn't it be fun!" When Linda sent me that message, I have been giving few distance Reconnective Healing sessions in the US in Pensilvania (June 4, 5, 6), in Missouri, and in Sweden on June 8. I think I have been flying over Austin to see my friend Linda. I did not understand what I was doing but Linda was sure she saw me there walking along an alley surrounded with trees near her house, and it was not the first time, I remember she sent me a pic of that place where she saw me passing. I have never been in Linda's house and I am sure now of a very strong soul to soul connection. That happened too with Terri as she told me one day that when sitting near her father giving him some healing she noticed my presence, I was helping her with that healing, but all these happen in a very spiritual level with a connection through the quantum field.
This is the pic Linda sent me of the place she saw me walking in near her house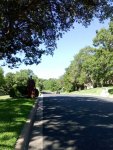 Many are those who notice that the energy I sent for healing last for a very long time and they can feel my presence as an energy near by overtime. Kelly Rose Palmer has amazing experiences with me on that point and she is able to talk about it when time will come.
Opening Parallel Worlds Through Healing
I had some other nice feed backs from my Reconnective Healing sessions relating to parallel worlds. The healing opens the person to a parallel world through the healing session and sometimes though their sleep time and the person see me in her dreams giving help on a spiritual level too.
Ben Woodhead wrote me this one day, and I think he is okay with me posting it here
"
So...I had a very significant dream and was wondering if you could let me know your thoughts on it please?
I had this dream on Monday night and have been wanting to contact you since. The morning after it happened I switched on my phone and to my surprise my phone came on already at the messenger screen ready to send a message to you. I found this very notable as I'm sure you can imagine?! Since then, each time I have thought about it, you have "liked" something I've posted at the exact same moment I've thought about the dream. This has happened a few times since Tuesday morning and the synchronicity of it has been so much that I simply couldn't ignore this and pretend that "it's just another dream Ben" lol. I'm slowly learning that there is no such thing...our dream work is just as significant as our waking life!
At one point in my dream I was in an agricultural field full of strange plants, they were about human height 5-6 foot in height, long brown stems and a bud at the top. You were there in very old style clothing (medieval type dress) and you were tending to the plants holding a basket full of small cloth squares. You were going from plant to plant tying these small squares of cloth around the buds at the top. The cloth was wet with something but I'm not sure what. You kept smiling at me and I knew that you were helping the plants in some way but I'm not sure how yet. You beckoned me into the field and I came to see what you were doing.
When I got amongst the plants my vision changed and I went inside one of the buds with a "whoosh" sound and I found myself in a really bright bubble, looking out from inside the plants' bud. Inside this bud I was amongst many dolphins and Merr-folk that were swimming around the curvature of the inside of the bud. It was huge inside and full of vegetation, like a small but perfectly formed world where air breathers and water beings could interact without concern for oxygen. I felt very at peace and as though you wanted me to meet the beings inside for some reason?
You reached into the bud with your fingers and gently grabbed me and all the other beings into your hand and scattered us across the tops of the other buds in the field. At first I was a bit apprehensive as I was flying through the air but I quickly felt very at ease again and welcomed the freedom from the bud. I landed on another bud and immediately resumed human form stood next to you again. I was then able to do the same myself and reach into other buds that contained all manner of being types, all of them different. I could then scatter the contents myself too.
I realised that you were teaching me how to fertilise the field and encourage it to grow. Wherever we scattered, beautiful silver and blue droplets of life appeared over the cloth that you had wrapped around them until each and every bud was glowing silver blue. When the whole field was complete the field resembled the sea, just how it is when the sun is shining over head and there lots of little sun reflections of the surface as the water moves. It was absolutely gorgeous!!
At this point I woke up and turned on my phone to see your face in the message section. This was an amazing experience and one I won't forget that's for sure!
Do you have any idea what was going on in this dream and also were you trying deliberately to reach me? As I said above I have been seeing your comments and likes etc ever since whenever I think back to it, just now being another example with my druid post. Have you been consciously projecting towards me (which is of course absolutely cool if you have!) or is it that I have something to learn from you and so things have been moving in my life to facilitate this?
Sorry for the questions I know you must be very busy (in more than one world haha!!) but I really had to contact you. There is absolutely no rush to answer or if you don't feel compelled to I totally understand too. I feel very fortunate to have had this experience and to have met you in that world."
This dream was in synchronicity with an astral travel I did the same night and here it is with the original notes

June 24, 2016
Travelling Through the Kingdom Of Flowers And Trees


I am still feeling the energy of this plane in me and my hands are tingling and vibrating very intensely this morning while writing this. My hands are channelers of this energy and of all the other ones. Two days ago a big tree has been cut here in front on my appartement in the park where he has been there for year and years now. His trunk was cut in two, and I was healing it because he was one of the last trees here to have leaves. When I woke up yesterday the tree was cut in pieces, down on the floor. His energy was still here and I could feel it. He was very sad to leave as he was feeling he did not deserve such a treatment. Now my hand is burning for his departure. Trees have souls, and I WAS HELPING HIM PASS THE LAST NIGHT.
Once there in his kingdom /home, he told me that he left his roots and that he is now in between dimensions in a much more effective way. But once the roots will be eaten by the beings of the underworld, he will be completely transported as an energy in his original home.
As I was there in that kingdom I took the tree in my hands and it was very little. With a touch of my hands the tree was planted in the field. It was like a wrack or a bonsai. It was so little. My hands passed over the branches then the trunk and I could feel its energy flowing in me and around in the field I planted it.
The soul of a tree is like a fluid energy but very consistent. It moves in circles and in a spiraling way. It is not an earthy but a multidimensional soul which can incarnate in another plant or another type of a tree once its life on earth ends. But this does not prevent it from keeping the connection with all the planes it has incarnated in. When they leave a dimension they are very emotional, I actually could feel its sadness all around the place the soul was floating over the pieces of the trunk and felt a discussion with the other tree which is an Avalon Tree I drew recently, and who was just near.
Part of the tree soul is still here I can feel this too. He told me yesterday my roots are here. Don't be sad I am not all that gone. But you will always feel the connection with me when the other part of my soul will leave this planet. I will be home in a more complete way. Trees carry on helping the earth from the Kingdom of Flowers and Trees. Flowers are the essence of their energy, they are their power, that is why the trees have flowers in their branches when they wake up from their long winter sleep. And that is why the Kingdom is called Of Flowers and Trees.
How is that kingdom? I saw many colors, very bright colors that are available in several colors composition which is very hard to describe for me, I am thankful to my guides that they allowed me do this travel to help that tree. Even trees are sad to leave Gaia. This is so new and amazing as I could never think it was possible and real. ( My hand is stil channelling now the information and I can feel the heat of this energy coming from there). The soul is yellow / golden it is pure light in a liquid light, as if you are under the sea watching the surface off the water from there, it is moving in spirals and doing little circles all around the surface. This is very cool to watch. The soul of a tree is a unique energy in the multiverse. The Kingdom of Flowers and Trees is actually like that, you enter a liquid world where you see everything glowing in a very attractive manner like watercolor.
This trip was very helpful for me to understand better the entity of a tree, I woke up feeling heavy and stuck in my bed, While writing this the energy was flowing from my hands. and I think that the knowledge behind the trees is unending. They did not yet deliver all their secrets.
I know now that I was helping Ben through that trip and he has that vision of me in his own energy field.

Meeting Dragons with Terri
Now here is partly one of the feed backs from Terri, as I saw that dragon during the session and he was the same she saw brown reddish
"At first my mind was busy and I had a hard time slowing it down, I was finally able to relax and get into the flow of the energy.
This time I felt energy start at my head and move downwards. The main colors I saw were mainly a strange color purple and a greenish color swirling together. There were others but these stood out to me. At one point I felt such joy and then another time I felt like I was gliding ( I loved that). Here are a couple other things I experienced. I saw a black and white picture of a small boy off to the right of my vision, I'd say about 3 years old. Then at some point I heard "Queen". And then get this, another moment I saw the face of a dark large dragon! I wasn't scared but his face was very close to mine as he looked at me with one eye, his energy was powerful. I chuckled at that one thinking, what??? So, what's been on my mind lately is past lives, and I am wondering if any of those have anything to do with that interest?? I guess I'm wondering, along with
my angels you saw were there any dragons? HA! I will keep you posted on any new developments from the session.
Here's another question, when you work on someone energy wise, do you develop a "connection" with them? Like with you, sometimes I can feel your presence around me and I'll say, "Hi Henda" And then while away last week with my DAD (89 years) old, I did some back muscle work on him and played a bit with energy on his back for a few days. Our relationship hasn't really been strong over the past couple years due to my sister often creating bad energy between us all. After being with him and working on him it seems to have brought our relationship back into harmony so to speak. I was just curious."
Healing can also has affect on our relationships as it can be positive. I was also helping Terri's dad with the session I gave her.
These feed backs are interesting because they explain the way we can connect on a multidimensional level and how we can open doors into the quantum field where we travel during the Reconnective Healing sessions. But obviously even those who did not get healing sessions with me like Ben, have that connection with me through parallel worlds.
I guess it is given to anyone to have access to the mysteries of the multiverse.
This is what came in my mind when reading Terri :
"It is so wonderful to have this connection to the Highlands both of us, it explains why you had access to the dragon during the Healing session. A projector is someone who projects out of his body (physical) without any technique. It is a gift. These people have involuntarily OBE astral travels and travels in parallel worlds and dimensions. They are protected as they are sent by spiritual beings and go back in their physical bodies naturally.
They have missions generally, I know now that when my right hand is burning I am involuntarily sending healing to someone or helping souls to pass in the spiritual realm. I helped many souls. The last ones were those who have been killed yesterday in Istanbul Turkey, killed by a kamikaze. I know also that this is my way to be attuned and recharged.
So actually I don't have to spend much time training myself to astral travel, it is in me. Robert Monroe was a projector I think. So he tried to help people do the same thing. I don't know if one day I could teach this. As I don't have any special technique.
And yes we can be in different worlds in different times, and different phases of our lives. We can have many lives is multiple worlds. When it is showed to us during our sleep time it is for a purpose.
I think you were astral travelling but unconsciously on the Highlands this is very nice. You just need to remember these experiences and you will be guided. Receiving the Reconnective Frequencies constantly will for sure help you as they open to parallel worlds. I have been much more conscious of this when I received my Reconnection. But it began with the frequencies I was receiving before. It helps. If you are a projector you will know it. "
Through the attunements I sent to some who asked for I also had amazing feed backs as from Matthew Mournian and Lai Jumoke with the Black Panther. This totem is really an amazing one as it connect us very quickly to the astral planes and help us in our journey. She holds a very intense feminine energy, a lunar energy and gives a natural access to astral travels.
Here is Matt's feed back: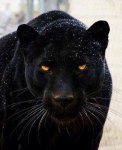 "Hi Henda, thank you again for being available for this today.
I read through the material you sent me and felt very connected to this animal right away. Prior to our session I did some clearing and began to meditate on the qualities of the Jaguar and what they might mean in my life. I immediately felt a connection, it was almost unexpectedly clear in a sense that was very new to me. A few minutes later you messaged me saying "ok 20 min".
I really didnt know what if anything to expect and I believe this was an advantage for me. I began to feel a buzzing in my crown chakra and then in my root chakra. I envisioned myself being led down a staircase into a darkened lower level - for me this seems to be a way in which I am connected to my higher self because this sort of "step down" effect appears to be happening frequently to me nowadays.
At some point I become conscious of being in total blackness. I am in the form of a child and a voice tells me "see if you can find it". I am walking very slowly and cannot see a thing except for what I believe is an outline of "black on black". Instantly there is a presence in front of me, I can sense its face moving toward mine. I feel its breath, sniffing me and am immediately aware of its impossible size, growing larger as my perspective begins to shift to outside of my body. I am instantly aware of it being a massive feminine entity and I become fearful of its power as I began to look down from above myself to see this being that it is growing in size. Somehow we are face to face. As it breathes in my own breath I see it expand itself beyond our world and out into space in an instant. I feel myself collapsing under the energy and feel my arms touching the floor as I fall down in the presence of this being. I become aware of vegetation around me and I am now in a cave. I am kneeling down in front of a massive stone statue of what is the very being I was face to face with. I become instantly aware of this being some sort of altar or shrine to this being. My form is now that of some explorer type individual from another time. I am aware of that this person is me and I am filled with tears of gratitude as I begin to understand I am witnessing myself in another realm, coming back into contact with a part of myself from long long ago.
There were several other quick flashes of myself in other bodies undergoing similar "movements" that I cant quite explain yet. I have to tell you with absolute certainty this was very powerful for me. I would love to talk to you about Reconnective Healing as well. I have a couple questions -
Have you heard of other people having this type of experience from these attunements? This was new to me and I am interested in learning more about this phenomenon. What might one expect after receiving this attunement, in your opinion?
On an intuitive level, can you recommend any other types of healing or attunement that you think might be good for me to try?
I will read more about reconnective healing and will likely want to book a session with you this coming weekend, if possible. Thank you so much for being a part of my spiritual journey - the timing was absolutely perfect!!
You are amazing!!!"
Here is his feed back from the Reconnective Healing Session we had few days later:
"Hi Henda, Sorry it took a bit of time to write this out. As you I'm sure you know by now, this was my first experience with Reconnective Healing. Even though I read about it a fair amount prior to the session. I didnt really have any idea what to expect.
Shortly after you messaged me saying we were going to begin I lied down and very quickly began to experience interesting tones ringing in my left ear, this was followed by some popping sensation and I could feel myself moving into another state of consciousness. Once again I walked down a flight of stairs (in my mind) and found myself in a darkened area. Linear thought seemed to go away and my next memory is of lying on a table. There is a presence to my left, at my feet, and on my right. I see and feel the presence on the left of me performing some kind of "medical" procedure - or rather that is what my mind made it out to be. I received a message that they were "untying" knots in some way and there was something about a "crystalline structure". I couldn't see the faces or make out any features, I just know they are there. Very interesting to say the least. I believe the energy must have been extremely strong because after this I lost time until the alarm went of on my phone, indicating one hour had past. Just as I came back into a more conscious state, I saw an image of what I now know as the Goddess Kali, much like this:
I dont know what to make of this particular vision, I dont have much experience with Hindu deities. I didnt have an emotional feeling about it, I just observed it come and go as I woke up. Afterward and since our session I had a feeling of "lightness" that very much continues even now. I also have a sensation that some sort of "layer" or "coating" has been placed on or in my body. Very new and fascinating. As an interesting aside - I seemed to have very disturbed sleep last night and woke feeling as if I hadnt slept - I even felt momentarily there was a "presence" in the room but without any negative feelings about it. This was a very interesting experience for me and completely new.
I really would like to know what you saw on your end.
Im so grateful for you taking the time to work with me like this, please let me know (if possible) if any of this is unclear of if you would like me to expand on any of it.
I hope this all makes sense!! Thank you!!".
I answered back telling him that when Kali came during his healing session it is a sign that things he has to move on in his life. So the healing he received was working on this and he had to release the old so that the new can enter his life.
Deities, Goddesses, Jesus, and many other high spiritual beings teachers and guides show up during my healing sessions. I remember one day, I had a psychic reading with someone here and when he first saw me he said to me " Are you aware of all this light beings you are surrounded with ?!"
I was actually conscious of it, but being seen by others that way made me feel much happiness, inner strength, self confidence and self esteem. When these things happen in your life as a healer and guide it is for a very good purpose and I know now that it was a sign from the spirit world to which I have a special connection.
Visiting Some Dragons with my Astral Totems

1-Meeting Britanic the Crystal Dragon


I was on the back of my giant bird The Adar Llwch Gwin. he took me on the bank of the Loch Ness and as I was flying I saw myself completely covered by his large immense and soft feathers. It was colder than the previous time when we travelled together.
We flew over a very large lake, then over forests and mountains. I saw three mountains there which appeared progressively in my vision " we are going to the highest one" I heard. He landed on that mountain which cime was white as it was covered with snow, it was very cold. But suddenly I saw an alley as if a portal opened in front of us (this happens many times during my travels with the Adar, and my other animal totems) it was surrounded with trees and a violet light energy appeared as by magic. I had no name of the place we were. As if the place has to be secret. A crystal Dragon was standing there waiting for us. So we walked side by side and the Adar was very protective as he usually does, I can feel it by his very warm and protective energy and his spirit surrounding me.
The Dragon introduced himself " I am Britanic (I had that orthography in my head like a vision), The Crystal Dragon. I hold in me the crystal energy of Earth ( writing this now, I am sweating hard and feeling his energy in me) Come to me !".
I felt a very warm energy submerging my body, I was sweating hard as he was blowing his crystal energy in me, I felt a warm hallow around me.
" This is the Crystal Energy and it is in you now. You are now able to pass it to anyone who comes to you. Now you can come back in you if you want" and then he blew a cold breeze on me.
The Adar Llwch Gwin took me on his back and I was feeling ready to enter my physical body.
During that trip I received the divine energy of Britanic the Crystal Dragon, and he is one of my totems now. It is a place in a parallel world where I have infinite access to healing modalities. That is one of the many gifts I had during my trips with the Adar.
Few days later I had this message from the Dragon's world "Dragons don't come to you when you call for them. They come to you by themselves as they choose you for a purpose. This is not given to anyone. You cannot Master a Dragon as it is a free soul living in different realms according to they level of spiritual growth too. Some of them have been used by humans in previous lives for negative purposes such as killing innocent beings, but as free souls now they are no more allowed to do this and to use black magic.
Some sorcerers from the oldest times asked to reincarnate in Dragons to raise a new power on Earth, these beings have been manipulated by some dark energies and such experiences are given to them to learn from the past and give Earth time for peace and joy."
While searching in the web a photo of a Crystal Dragon, I found a French site which link is here
http://www.arcturius.org/chroniques/les-neuf-dragons-de-cristal-du-peuple-de-mu/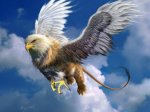 Here is a pic of the Adar Llwch Gwin which is a magical bird who lived during the Arthurian reign and it is a very powerful spirit and a healer. Use his energy for the highest goods of all.
I will stop here for now but will post another thread as I have been through many experiences of this kind. Next time I will talk about the other worlds I visited during my astral projections in parallel world.
Last edited: