Ever been abducted?
Well most people don't remember such experiences as they usually are stored away deep within our memory banks.
I remember a long time ago, a few years back, everything was normal. It was just like every other day, going to bed as usual. Thus, I went to sleep... and then... I woke up on the other side of the house. It was so odd as I clearly remember going to sleep in my bed. Yet, I somehow woke up lying horizontal on the smallest couch in my house.
Here's the picture of said couch for reference...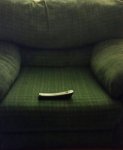 Thus, I had my head and legs dangling on open air. I woke up not long after the rising sun peaked over the horizon and shone inside my house. I was a bit perplexed (and might of had a stiff neck). At the time, this couch was right in front of the sliding screen door to my backyard. I didn't question the event too much and went along my day. It was only until later that I realized of its implications. This happened while I was attending elementary school.