Bev Goodman submitted a new transients.info article.
Defying Gravity — The High Priestess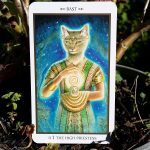 Taking the route less traveled embodies a meaning hidden far from the eyes of those in the world. It means more than merely choosing a path contrary to the majority of those around you. It means more than choosing peace over violence. This concept of choosing a path less traveled is beautifully expressed in the Major Arcana card, 'The High Priestess.'
In this tarot card a women is situated between two symbols of time, one past, one future. One, often colored black and the other, white, like the yin and yang in Chinese Philosophy.
She usually wears a long loose flowing gown and her hair drops down over the fabric. Her backdrop depicts lush natural fertile creations, like fruits or flowers. She holds the sacred Torah (the five books of the Old Testament) and a cross, often as a...
Click here to continue on to the original article.
Last edited by a moderator: