Healer, Musician, Astral-Traveler
RT Supporter
Retired Moderator
This is an initial post in the thread to document my attempts at replicating omcasey's crystal ET communication pics (see thread there).
I will post first results soon. I have done 450+ pictures (already 2 months ago) and so far sifted through the first 70 or so. I will post a picture of the first-50-batch here soon.
First I'll do some small explanations about my approach, the process and show the setup.
I have a small Apophyllite which I often 'charge' on a small orgone pyramid with a flat top (south-american style if you will).
See pics below. Not to be seen is that I also have the pyramid placed on a cut-out picture of the Flower of Life. (Yeah, I really can be hard-core. I know ...).
You see it's still very small which makes the task of photographing and recognizing not really an easy one.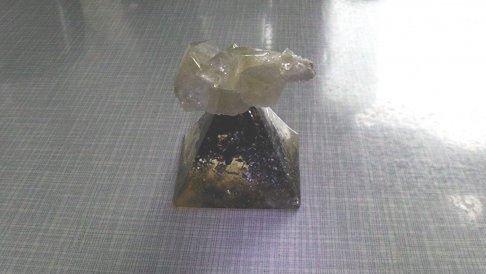 ​
​
My first attempt was a failure and only resulted in blurry pics. But I used the wrong cam. It was an old digicam with not so high resolution. Thank goodness I also have a HD cam which you see in the 2nd photo for a few years now and it was used for the second and more successful trial just one day after (the one with the 450 pics).
Process pre-shoot:
Relatively simple. I hold the crystal in my hand. Close the eyes, feel it and the energy and try to connect energetically while I'm asking the 'beings' / my Higher Self for any patterns and elements to 'show up'.
Then I make the photos, the first I still did were while holding the small crystal in the hand, most I did though while it lay on the pyramid or just on the white table (the dots you see sometimes next to the crystal area just are the table pattern lines). It took many pics from all sides, turning the crystal all the time.
Process of after-shoot preparation in graphics editing programs:
Don'ts:
No gross 'manipulations' because that would not be fair and honest to the experiment. However, some exceptions will be mentioned below.
No glossing over, correcting, retouching, filling, etc.
No change of overall picture angles (longer, wider) in order to e.g. 'rectify face proportions' to make them look more 'physiological'. Proportions are left as is.
No single area colouring or darkening or changing in whatever fashion.
No 'drawing' of anything into it, e.g. to complement e.g. a missing eye or ear. No drawings done!
Dos:
I cut any detected face/head out of the entire pic first, making it a kind of 'ID card pic / mugshot'
I apply the function 'contrasting' and/or sometimes 'brighter/darker' in order to make distinctions more visible. However since I detected it already it means that it was already recognizable in its more shady original state. I view this like the entire experiement and initial connecting/shooting as a play of consciousness and/with light . So this is within the allowed parameters for me in the aftermath because the play of light then also continues with contrasting, adjusting brightness and thus making only a bit more visible / better recognizable of what is 'already there' anyway.
I apply 'auto-change/settings', which is just one button in that program. Its result however is almost like applying contrast and dark/light by just making some patterns, colours, shades and borders more visible.
In the end, I choose a unicolour of my taste in that moment for the entire pic. This is just for an 'artistic' touch if you will. Again the face would have been already recognisable without doing this. I am e.g. giving it a blue, green or brownish tint because it looks great and I just like it this way. I may choose different colorations for each pic, or none in some cases, and all as said, just to my taste. (Btw, the pics are already almost unicolour anyway, either greyish or black/white or brownish/greenish sometimes).
Some results interpretations before I post pics:
I think some of what can be seen (some better - some with a bit more of good will) is indeed 'beings' of some kind (ET, elemental, aspects of self?). Maybe as omcasey says it is always parts of Self as fragmented universal consciousness / aspects of higher self or whatever. From a higher view it certainly always is. Makes sense to me. Or it is all crystal/astral elementals. Or ET beings doing a transmission. Or actually all of it at once. I leave it all open.
So as an open-minded skeptic I don't know what
exactly
they 'are'.
But I think I know now one thing for sure: They 'Are'.



As announced, more to follow. Stay tuned.
Last edited by a moderator: