Healing Facilitator & Consciousness Guide
Staff member
Administrator
Creator of transients.info & The Roundtable
Jul 19, 2016
5,856
14,390
We have a bunch of threads for memes...
Memes on Consciousness, Health & Spirit
over on the
Consciousness Exploration & Spiritual Development
board
.
Silly Memes
on this board, the
Roundtable Creative Gallery of the Arts
.
Inspirational Stories, Photos and Articles
, which includes memes, over on the RT members only
Guidance on Life, Spirituality and Consciousness
board.
We have have a
thread with a helpful tip
about where to find art for creating memes.
...but none for GIFs!
Now we have one.
What is a GIF?
It's an image file like the JPEG or PNG file formats. But it can also support animations, as in images changing quickly like a flipbook. They cannot have sound because of the limitations of the file format.
Their rise in popularity
Like memes, they're useful for sharing emotions, ideas and jokes. Websites like Gyfcat, and GIPHY make it easy to create and share GIFs. The services these sites provide are integrated into software like Viber, Twitter, and Facebook Messenger, including your phone's keyboard — they're becoming easier to quickly insert, like emojis or stickers.
How do you share one on the forum?
Just grab the URL and paste it into the thread insert image field, then select INSERT.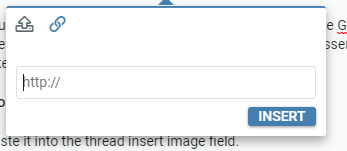 When you hover your mouse over a GIF, in the bottom corner some text should appear, which you can then click on.
If you are on a phone, just touch the bottom corner and it should take you to the source website where you can find the URL.
Note that you may find an error if you use the "short link" when inserting the URL, so you just should go with the normal URL.
For example, on gipthy.com, first you would click here:

And then you would copy this link below, not the short link.
Sometimes you have to just grab the URL from the address bar at the top of the screen if there is nothing displaying that allows you to get the link.
Note that not all GIFs will properly/correctly embed and work on the forum. sometimes you will get a X icon image when they don't. There's nothing you can do about this, but pick a different one! X Example:

I'll start with a few
Last edited: