I think I am ready to begin.
That all too familiar feeling is present.
The following story in it's greater detail is somewhat lengthy, so as a way of rolling into it gradually first the version in brevity.
*
This lifetime has been highly focused from the beginning. Meditative states and tendencies coming both early and easily. Communion and communication between the spiritual and physical the everyday norm, the invisible playing regularly in my visible world. In a way far more real, far more recognizable to me than those (plays) more local, more mundane. In this way I carried on in more than one space, more than one place at a time. And never came away from it, to the degree as the genuine Earth human experiencer. ––(Not in this lifetime.
In this body's 44th year, spectrums of the invisible world (and I use this phrase poetically) entered my experiencing more fully, more visually, more physically. I could once again be entirely resident in them. In multiple fields. Here,
and
there, at the same time. There are many contemporary concepts for this, out-of-body experience, astral projection, soul journeying, etc.. The concept I more generally put forth is
'additional consciousness states', or 'synchronous states'
. To concentrate into the component of holding more of the whole all at once.
For the next 4 years, every day, every night I regularly went in and opened out
. It is probable the regularity in which the experiencing took place is what caused (created, resulted) in the capacity I am here to share with you. A capacity to work together with crystals in a specific format. In what is for me a viable means of connecting and communicating with
occupants
of additional consciousness space.––with Universal, galactic and elemental beings.
It is a capacity, a skill I am integrating, investigating, exploring not just in this life experience but in many.
My being, entity, soul, individuated unit of consciousness seems to have this at its basis.
Communications. (as a specialty. A very fun idea for me to
work/play
with.
_________________________________________________
So here I will begin sharing
visually.
Communications. Transmissions I receive via the mean of this crystal.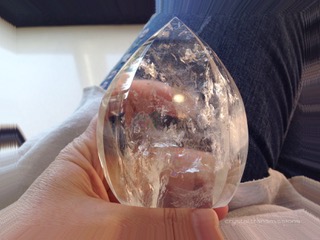 From spectrums of my own higher fractal consciousness––to me (the ground level re-presentation.
I will share mostly those transmissions (those patterns which are more universal in nature. Which are the easiest seen by consensus.
Beginning with this fellow:
Casey
please note that in order to not distort the page I am using medium and not full size file sizes
*
*
Last edited: