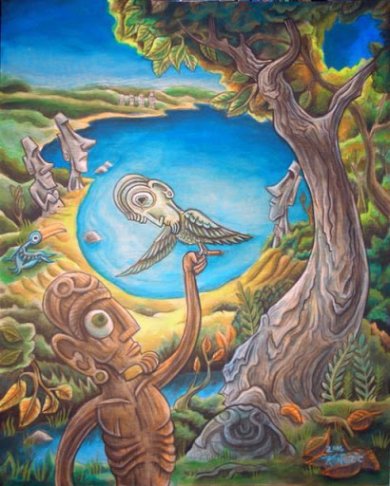 ​
Some interesting aspects today as the first quarter moon is under way, which is when issues emerge that require taking more action or making adjustments. This can be considered a stage of conflict, but also of building. Things are beginning to take off and to gain momentum. This is not a time for contemplation or reflection, so we will feel better if we stay active even though it may need to be in our own sphere.
The strongest aspect today is Chiron in Aries opposing Makemake which is the planet named after the fertility God of Easter Island indigenous people.
We know Chiron is more active now in how he is pushing us to "remember" wisdom that has been buried deep in our psyches ready to emerge at a given time, and this is happening for many on this planet at this time who are in tune with the universal creator energy and ancient wisdoms emanating from that source.
Makemake on the most basic level represents those who buried in the dysfunctional swamp of density.
On a more basic level he is encouraging us to rise above this density of old imprints and emotional conditioning given to us by the society we live in, to rise above the fear that this creates, so we can embark on a new individual spiritual journey into enlightenment.
Chiron is encouraging all of this, bringing courage along with Mars now in Aquarius, so many of us are feeling this power flowing in and taking the initiative to help bring strength and motivation to others to look at the much bigger picture of what is unfolding.
This is a powerful combination , happening at 5 degrees Aries and Libra so people with that degree strong in their life patterns will notice it strongly as an urge to think outside the box and listen to their intuition more than usual, gain more insight at the very least and some much needed clarity.
This aspect will be received well for many of us who are looking for answers above the physical which is rather a confusing place to be for many of us right now and of course Chiron is always in tune with the worlds suffering, but now in Aries he is on a mission to help us to help ourselves more than ever before, put into action the knowledge we gained while he was transiting Pisces for so long teaching compassion and attunement to higher levels of our being.
Another helpful aspect today is the Sun in Aries quintile Saturn in Aquarius which one of empowerment , similar to the above in many ways as it is very much about bridging the past with the present to help us assimilate whats going on around us, learning new ways to "be" in these times on all levels, helping us to gain a sense of structure in this world that has gone rather crazy and surreal.
The other helpful quintile is Mercury in Pisces and Pallas in Capricorn which enhances our mental ability to accept and assimilate, work out whats fair and what is not and how to fit it all together.
Pisceans and Capricorns will enjoy this one as well as the rest of us.
Tomorrow there is an opposition of Sun and Juno, the mischief maker so try to keep your cool if people are being too picky or critical in family situations or dredging up old stuff.
Try to be patient if in a confined space. A good day to get out in nature if you can and leave the little worries of life behind.
Take a break in some way from people in your space but also those on line if you are just not in the mood as that's going to happen too in these times.
This is mainly an Aries/Libran factor which reminds me that in 5 days time we have the full moon coming in Libra- another Perigee, and we know what the last one brought in Virgo, the health Full Moon of the year!
This one will be powerful and bring a peak time in areas of sharing or not as more issues come up about the same in many different areas of life, including businesses opening or not, people staying home to be alone or getting out more.
Remember, before paranoia sets in that all sorts of health symptoms come out in the days before a full moon and more people may die of natural causes on full moons especially the elderly.
Feelings are vastly exaggerated near full moons but this can mean joy as well as sorrow, and spirit is always closer to communicate with.
Our connection to the comfort of our higher self and the God of our understanding is also stronger.
This full moon coming will definitely bring a peak time and we are in the energy now to a degree. I'm noticing that Mars will be squaring Uranus on the day so this in itself speaks of the unusual and unexpected for many of us but probably also globally which could also manifest before the full Moon is exact.
This could be about Media/technology coupled with a finance /economy matter as something could crash – as long as its not the internet as we need that more than ever right now.
Will be an interesting week ahead!
Last edited: