Frequency Modulator
Staff member
RT Supporter
Global Moderator
Board Moderator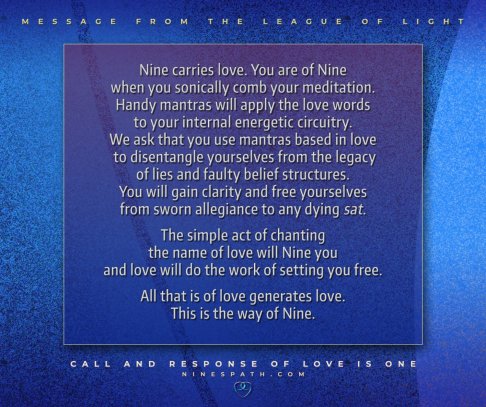 Nine carries love. You are of Nine when you sonically comb your meditation. Handy mantras will apply the love words to your internal energetic circuitry. We ask that you use mantras based in love to disentangle yourselves from the legacy of lies and faulty belief structures. You will gain clarity and free yourselves from sworn allegiance to any dying sat.
The simple act of chanting the name of love will Nine you and love will do the work of setting you free.
All that is of love generates love. This is the way of Nine.
a message from the League of Light
Nine's Path compiles transmissions from the League of Light and divine Pleiadian Renegades which began more than a decade ago. Discover divinity within.

ninespath.com