Healing Facilitator & Consciousness Guide
Staff member
Administrator
Creator of transients.info & The Roundtable
Jul 19, 2016
5,405
13,878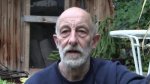 ​
Here is an eleven minute video by Clif talking about the possibility if Hillary Clinton is actually dead, based on people noticing at least two different body doubles, as well as 'CGI' Hillary.
Clif does recap and mention that the webbot showed that Hillary Clinton would be out of the race by the end of September, citing health issues.
Clif admits that no one knows if she is alive as there has been no proof of this since September 11 and she wasn't looking good at that point.
So Clif says the data shows that someone will make an announcement that Hillary is out of the race at the end of September. That is when the bonds take a big hit.