Mystic Master Healer, Astral Explorer & Author
RT Supporter
Retired Moderator
First card : What is blocked and needs clearance :Solitude
Second Card : what will help resolve the problem : Uncovering treasures
Third card : How the situation will be resolved if you follow the advice given in the previous two cards : Joy and Delight
SOLITUDE
"In silence, peace prevails."
Card Meaning: In silence you'll find a depth of self-awareness, as well as inner peace. This is a not a time to venture forth with a new project or a new cycle. This is the time to step back and be still. In quietude you can seek and uncover your deepest inner truth. Seek solitude, and all will be revealed. No matter what is happening around you, find serenity.
The Sacred Traveler Wants You to Know: Your power is born in stillness. Sometimes the traveler is in such a hurry to reach the next peak that he gets separated from his spiritual source. However, when the traveler takes time alone, everything falls into perspective. Take time out of your day to be completely quiet. Take deep slow breaths. Imagine inhaling vitality and exhaling all that is not needed. Affirm that all is well. Move past the chatter and chaos on the road of life, be still, and hear the voices of your higher self and your spirit guides.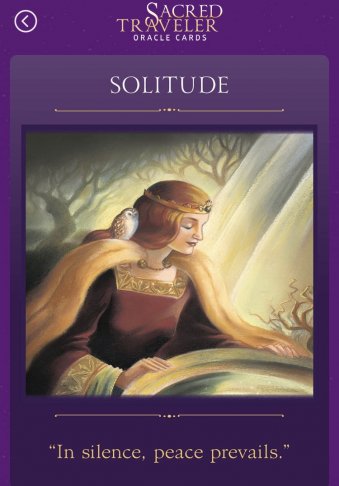 UNCOVERING TREASURE
"Beneath the surface lies great bounty."
Card Meaning: Look beneath the surface in your life, and you'll find treasure. Bounty is awaiting you in many forms. The secret is knowing that you deserve it and are worthy of it. Something that you thought was ordinary will turn out to be extraordinary. Take a second look at the people and situations in your life. Sometimes receiving treasure is simply a matter of seeing life in a new way. The treasure was always there; you just didn't see it.
The Sacred Traveler Wants You to Know: On the journey, the traveler confronts dragons and overcomes obstacles, and in the process discovers the depth of the treasure in their soul. Often treasure is found in the most unexpected of places. Sometimes after it seems that you've faced an inner dragon, you'll find the hidden treasure. Success begets success. So as you begin to seek and find the bounty in your life, more and more rewards will follow. This card heralds a bountiful, prosperous, abundant time in your life.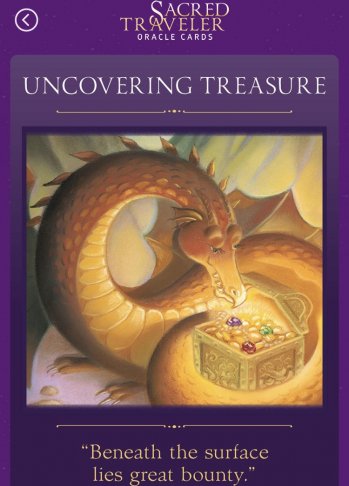 JOY AND DELIGHT
"Open your heart to joy."
Card Meaning: You do not need to suffer to grow. You can grow leaps and bounds through joy! True happiness comes from following the dictates of your soul. Do what gives you joy. Celebrate and have fun! Stop and embrace life, yourself, and others. Say yes! Take steps today to expand your joy. You don't need to do it all at once, but you do need to start. Your purpose in life is to experience joy! Allow joy and ecstasy to flow through you wildly and freely. Share your love. Happiness spreads to others like wildfire and can help heal the world.
The Sacred Traveler Wants You to Know: The Sacred Traveler knows that it's not just about reaching the destination; it's about the joy of the journey. The traveler stops periodically to savor the simple pleasures of the voyage. If you don't follow your bliss now, when will you? If you've been waiting until circumstances are different before you experience true happiness, you may have a long wait. It's simple: When you focus on the areas of your life that bring you joy, these areas will prosper. One of the fastest paths to happiness is through sharing and giving, so give of your heart and follow my bliss. Joy is your spiritual birthright.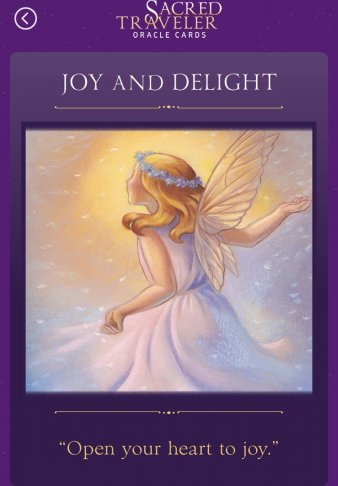 Namaste
Last edited by a moderator: